Meet our People
Meet our People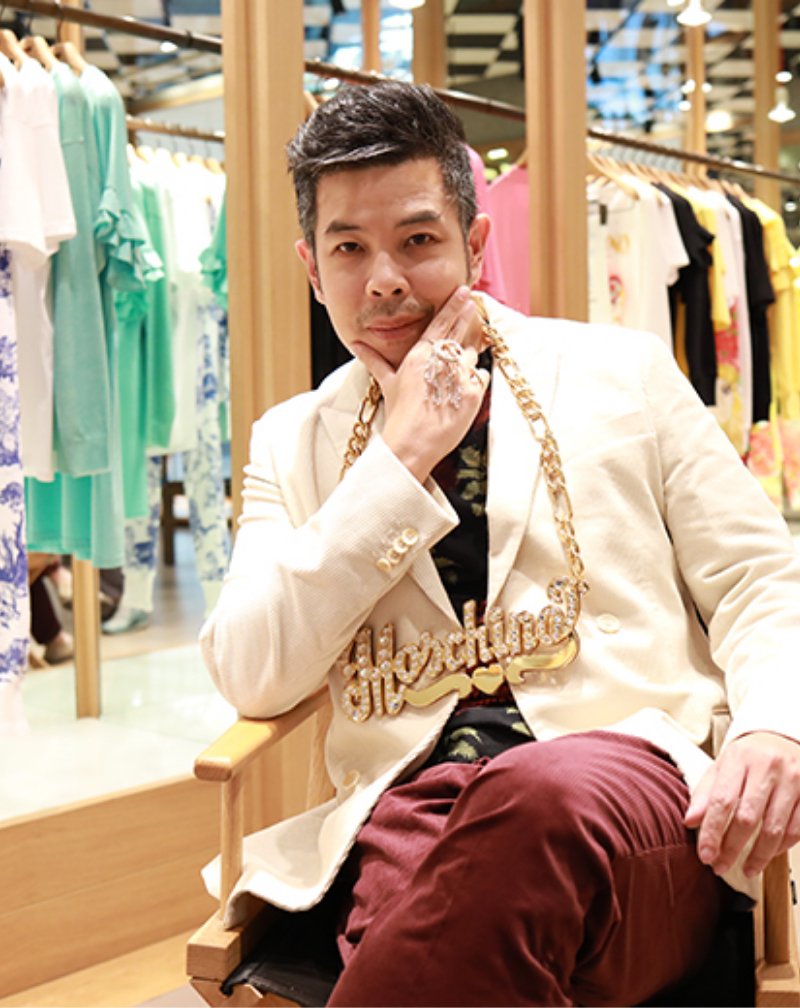 Khun Chang
Head of Operations Product and Service Academy
What sets Central Department Store apart is its staff service that never fails to create a positive impression on customers.
Our operations team has consistently developed and improved service standards. In the past two years, Central has designed new service standards that we call 'Service Ceremony' to rigorously train and evaluate the performance of our staff at every branch. The results have led to an increase in sales and the decrease in customer complaints. It has also inspired our staff, creating a culture of impeccable service unrivalled by any other department store in Thailand.
The developers of the 'Service Ceremony' initiative, who operates under the CDS Customer Service Head Office has appointed Khun "Chang" Ratchadet Suksin, Head of Operations: Product and Service Academy, to take on the role as the 'Master Trainer' to coach and evaluate staff at all Central branches.
"We want our staff to be highly customer-centric because our organisation is driven by service. It is the DNA that is embedded within Central. But at the same time, we don't want staff to feel like we are creating "rules" to abide by but more of guiding principles that can help inspire a true passion in delivering excellent service with the customer at the heart of everything we do. For me, I engage my customers following the 'Service Ceremony' guidelines as well."
Staff may view 'service' and 'sales' as two separate things, but for Khun Chang, he views the two as the same.
That is why he has created some tools that help staff in understanding personalised service, creating a culture of excellent service.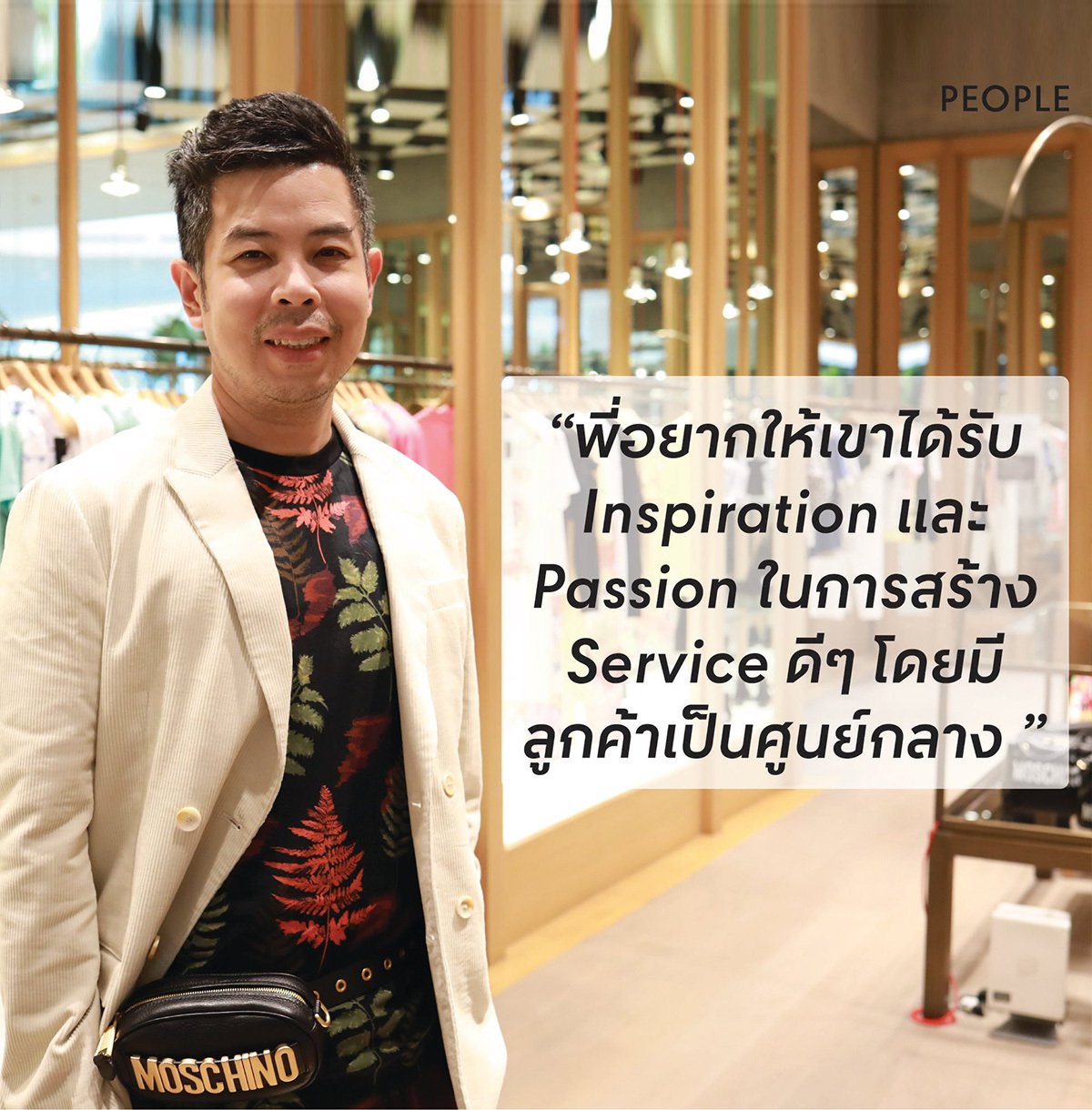 Customer Centric
Besides 'Service Ceremony, Khun Chang has also taken on the responsibility to share his knowledge and wisdom in creating customer relationships across different branches in Thailand.
"Most recently, I had to introduce our employees to the idea of 'omni-channel retailing, but I didn't want to burden them with another big chunk of information to take in. What I did was blend that information in with the Service Ceremony. In the guidelines, we state "Never say no to customers". If the customer wants a certain product in a specific size, and the branch does not have it in stock, staff are encouraged to use other services to search for the product and any ongoing deals through E-Ordering, Slick or Central App. All of these channels are all about 'omnichannel' retailing. I just needed to pull out certain information to make the staff see that it's really all part of one journey."
Central is the organisation that has diverse generations working together. But Khun Chang noted that everyone has the same goal and is ready to support each other in creating new things together.
"The 'Service Ceremony' award belt buckle at first wasn't even in the plan, but I wanted everyone to take it seriously. When I get to meet and talk to members of top-level management who encourage me to try something new, it makes me want to do the best I can, and this makes me feel even more connected to the company."
"Central Retail is a dynamic organisation with diverse products and services. If the younger generation joins Central Retail, they will have the opportunity to learn a diverse set of skills and receive the opportunity to do hands-on work. The most important thing is stability. Especially in a situation like COVID-19, it is evident that we can stand on our own feet with strength and confidence."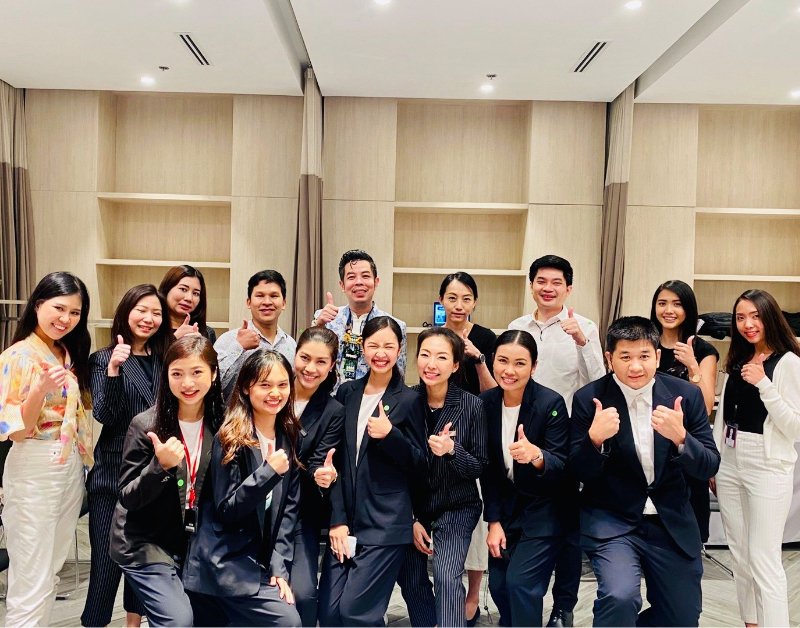 Meet our People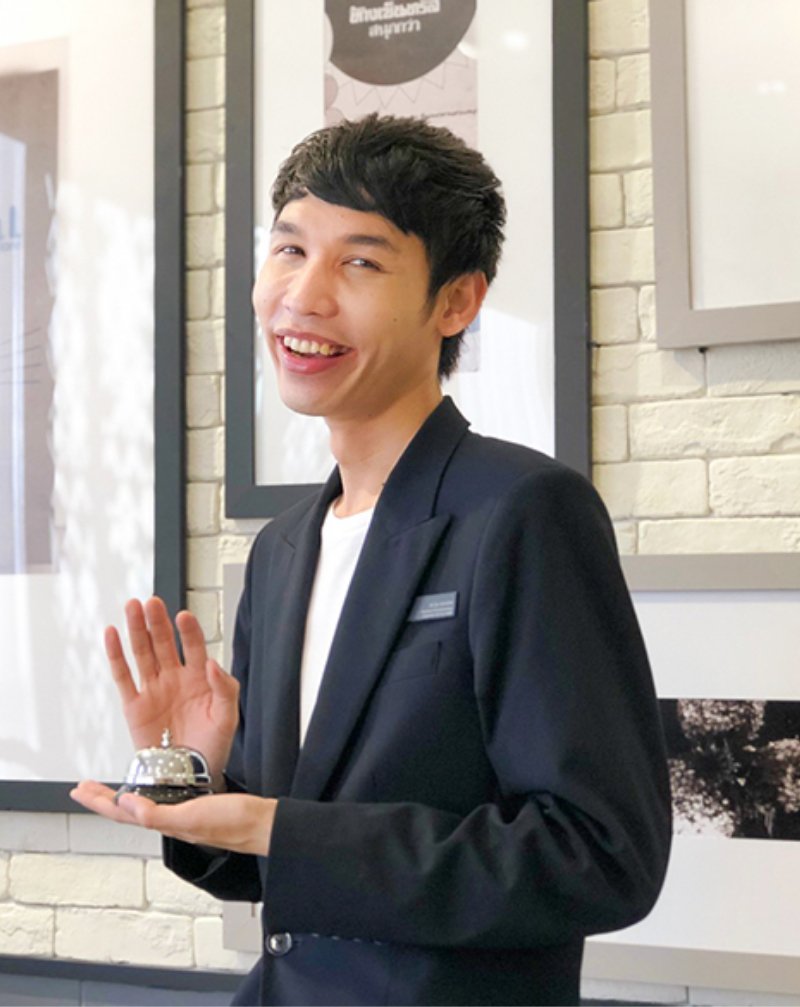 Khun Tata
Central Department Store MC Facebook Live
In today's world, we can't deny that live selling on Facebook can create so much income for online merchants. One of the main reasons why it has become so popular is the convenience of shopping and the unique character of the merchants (MC) who can attract customers.
Central Department Store also uses live streaming to respond to changing behaviours of customers. The company has organised Central Department Store MC Facebook Live: The Ultimate to search for the best MC. We had the opportunity to speak to Khun "Tata" Panuwut Kanasaeng, a Remote Personal Shopper who was named the best MC, to talk about his experiences working with the company.
MC - Facebook Live
"I can still remember vividly when I first became an MC. It was when I went live to sell underwear for men. It was an experience that left a lasting impression, and that was when I knew being an MC is quite challenging," said Khun Tata.
Khun Tata told us that being an MC means having good communications skills, personality and deep knowledge about products and services. Therefore, being an MC combines a unique set of skills and knowledge. Even though taking on the role as an MC for the first time went well, Tata always reminds himself:
"I have to keep improving myself and stay open to new challenges. I believe we all need to get better everyday. I have learnt how to build a distinctive personality and character...to create an entertaining experience for customers so they can remember me. I also need to be very creative in the way I present products. And as each live stream session has a limited time, I have to plan very carefully and analyse the target group clearly to be able to respond to their needs in the most relevant ways."
"What do customers get by watching the livestreams by Central?", we asked.
"Besides the enjoyment in watching live streams, customers also get new information about products from staff directly. It is a new shopping experience in this "New Normal" era. It makes customers feel like they actually come in to shop at the mall, receive good deals and responsive service. And to think that all of this is happening through the comfort of your smartphone without having to travel anywhere...it really is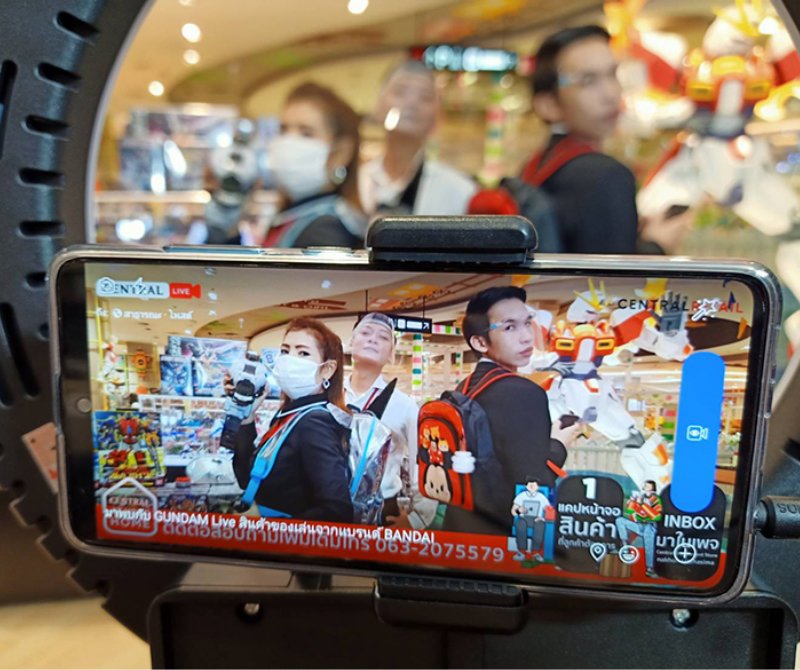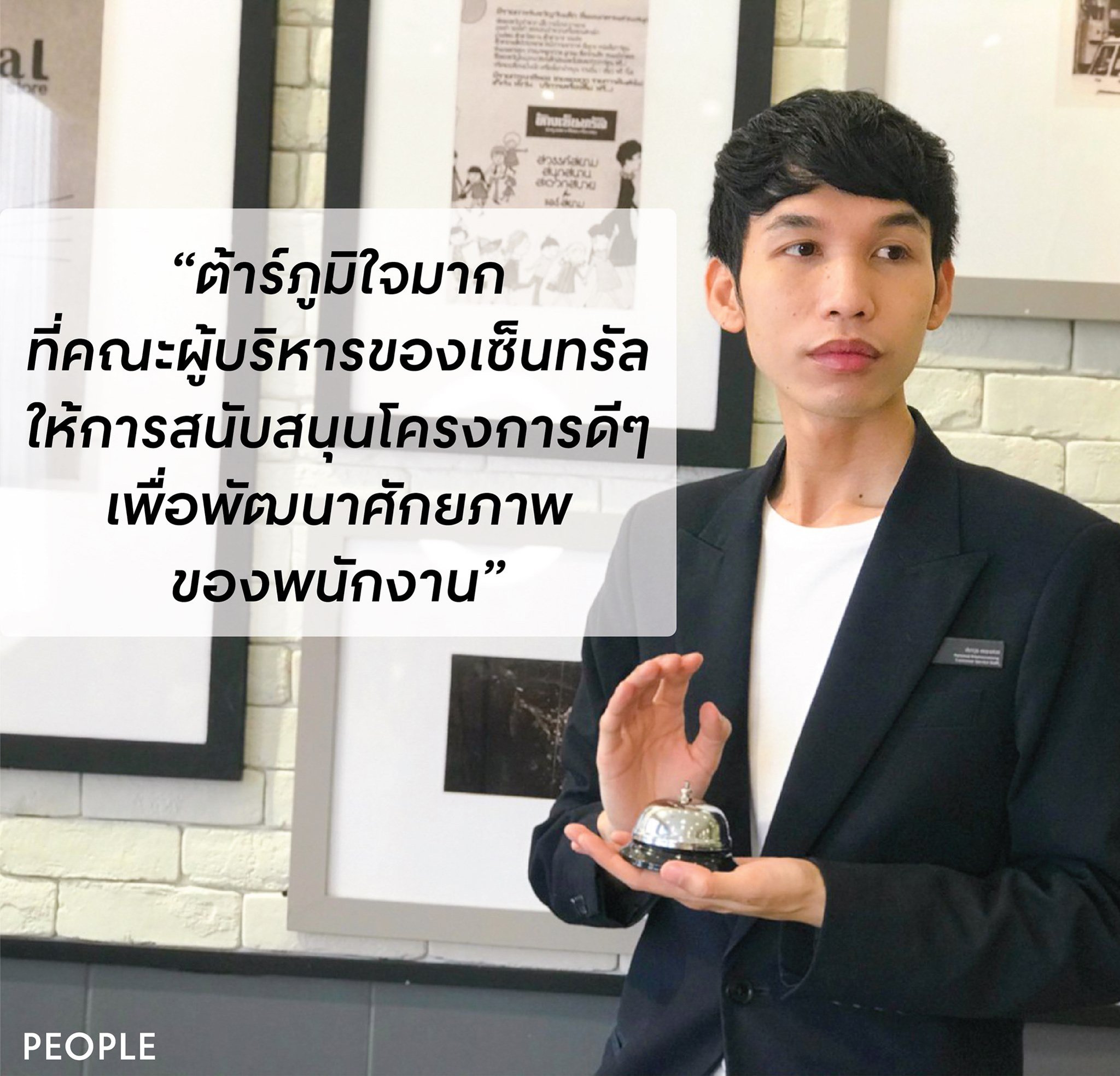 Central Department Store Facebook Live:
The Ultimate
Throughout the competition of the Central Department Store Facebook Live: The Ultimate, we felt there was a lot of preparation that went in for Khun Tata. He revealed to us that when he was chosen as the representative for his branch, he felt extremely nervous. But with the support from his colleagues at the Nakhon Ratchasima branch, it motivated and inspired him to take on the role and represent the branch.
"I felt like a little kid that received a great opportunity. This programme gave me a lot such as the training I got from my mentor and the good friendships I formed. I am very proud that the management team at Central has supported such a great programme that has developed the potential of its employees.
Khun Tata told us about his impressions towards the programme and mentioned that Central is the first company in his life that he has worked for as a permanent employee.
"As a member of the LGBTQ community, I want to thank Central Group who has opened up great opportunities for us and allowed us to become part of an organisation that drives creativity as one team. I want to thank everyone who is part of the management team that has created a great programme for its staff. I look forward to seeing many more similar programmes designed for employees."
Join Us
We are ready to give you the opportunity to take a challenging job and inspire your work to the fullest. Furthermore, we will push you beyond your limits to achieve your goal in career path.
www.centralretailcareers.com