Business Movement
OfficeMate Plus+ looks for the right SMEs to grow together Opens applications for franchises nationwide with a monthly profit guarantee of one hundred thousand baht Moves forward to find franchise partners with a target to have over 60 franchise stores by the end of 2022
24 June 2022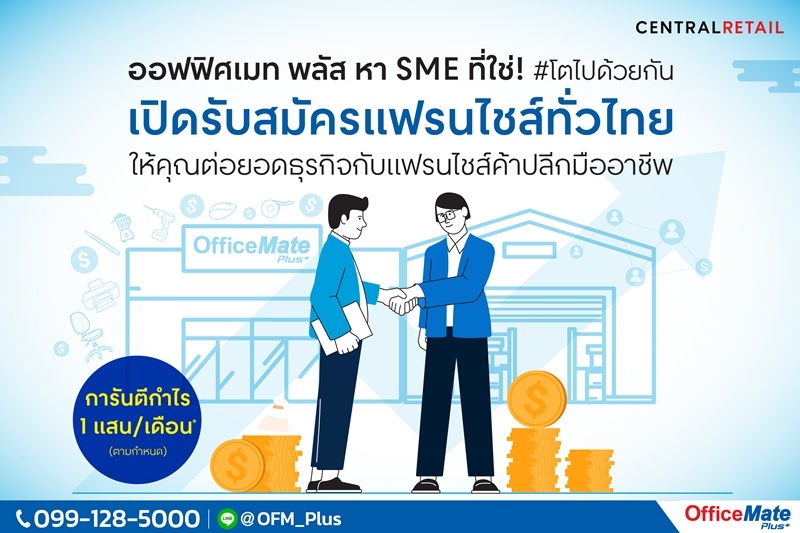 OfficeMate Plus+, the leading office supplies franchise for business under the umbrella of Central Retail, is moving to welcome the right SMEs so they can grow together. The company is providing opportunities to apply for the franchise nationwide, emphasizing its "Fast Track to Success" concept. It is confident that OfficeMate Plus+ is a solution for local business owners to steadily expand their business. Thanks to 27 years of experience, the company has developed a solution that supports franchisees to start business within 3 months and enjoy non-stop growth with a guaranteed monthly profit of one hundred thousand baht (following the guaranteed provision).
Ms. Wilawan Rerkriengkrai, President, OfficeMate Plus+, a subsidiary of Central Retail, said that OfficeMate Plus+ has been steadily growing during the Covid-19 pandemic. Between 2019 and 2022, the sales of OfficeMate Plus+ franchise stores surged by 189% a year with more than 100,000 product items for business on sale and the Omni-channel allowing franchisees to offer customers offline and online services as well as free home and office delivery service (on time). These resulted in franchisees being able to continually generate income and break even in 3-4 years from the franchise startup costs of 2.9 million baht.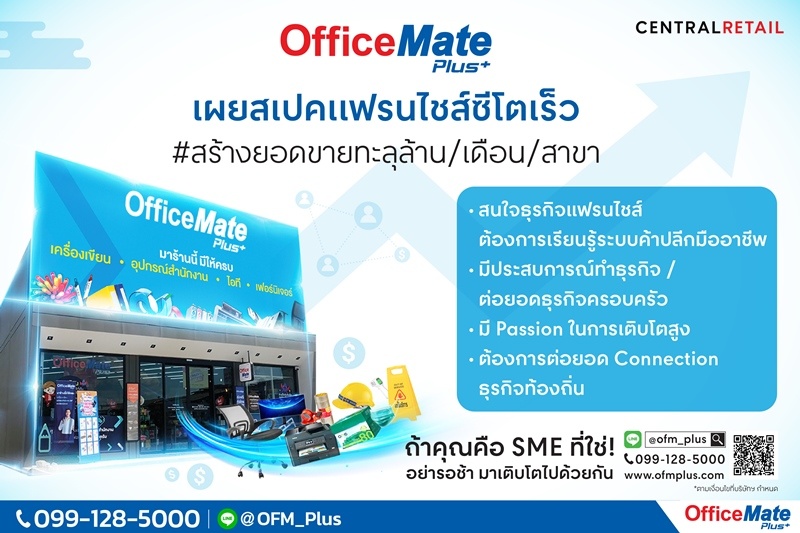 Among its partners, OfficeMate Plus+ found that the franchisees with great opportunity for success are SMEs with experience in doing business, family businesses, or which expand their existing businesses with a local customer base. After opening OfficeMate Plus+ franchise stores, they have the potential to grow substantially with sales of over million baht per month and a minimum profit of one hundred thousand baht. At present, some franchisees are successfully opening second stores.
OfficeMate Plus+ targets to have more than 60 stores nationwide by the end of this year from the current 40 stores in 35 provinces (as of June 2022). The company is now welcoming SMEs in all regions to be franchise partners to grow together especially in such high-potential provinces as Chiang Mai, Lamphun, Sa Kaeo, Amnat Charoen, Khon Kaen, Nong Khai, Kanchanaburi, Ayutthaya, Songkhla, Phuket and Krabi.
If you are the right SME! OfficeMate Plus+ is ready to be the solution to meet your investment requirements. Please feel free to contact our free franchise consultant via Line: @OFM_Plus or call 099-128-5000. For more details, visit www.ofmplus.com.