Business Movement
CMG teams up with ATOME to offer "Buy now, Pay Later" that allows customers to pay 0% interest of 3 installments
29 June 2022
#CMGxATOME #atomeTH #BuyNowPayLater #timetoownit #ชอปก่อนจ่ายทีหลัง #ดอกเบี้ย0
Central Marketing Group (CMG), the international brand distributorship arm of Central Retail Corporation (CRC), with the world's most renowned fashion, beauty, watch and technology brands such as Dyson, Casio, Guess, Fitflop, Calvin Klein Jeans, Clarins, Garmin, Polo Ralph Lauren, and many others in its portfolio, has launched a new payment option for shoppers, in partnership with ATOME, a leading 'Buy Now, Pay Later' platform in South-East Asia.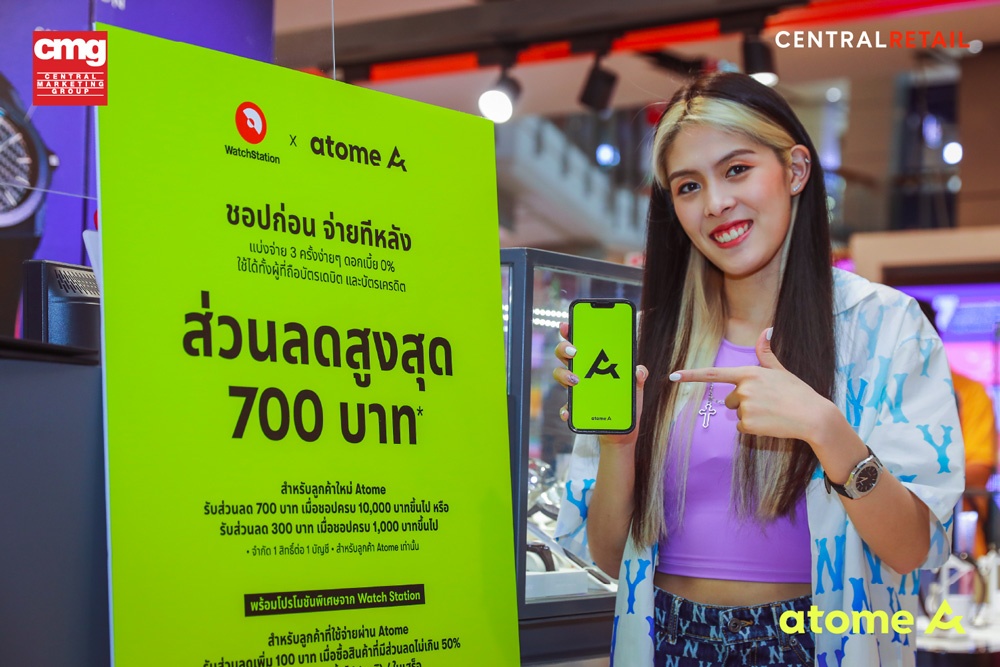 "Buy Now, Pay Later" shopping experience allows shoppers to pay for their purchases in 3 interest-free installments without any additional fees. Since June 15 customers can shop across 22 well-known brands in CMG's over 220 boutiques nationwide, as well as its brand websites.
With Atome App, customers can shop at any CMG store and split their purchases into 3 equal deferred payments with zero-interest. There are no monthly fees, and the application process is very easy. Customers can apply even without a credit card, if, they have a debit card.
Mr. Maciej Ryszard Koprowski, Head of Marketing & Corporate Office on behalf of Mr. Edwin Yap Hawson, President of Central Marketing Group under Central Retail, said "Thailand retail is very attuned to ever-changing global retail trends. Customers increasingly look for flexible and creative payment methods in our stores and online. At CMG, we focus on creating an unrivalled shopping experience across all our brands we operate. We aim to delight our customers by respond fast to their evolving needs. I am delighted to be partnering with ATOME, as the first provider of "Buy Now, Pay Later" at CRC, to bring this convenient and affordable payment solution to a new generation of customers in Thailand."
Mr. Poompong Tancharoenphon, General Manager of ATOME Thailand added that "I am excited to announce our partnership with CMG. I believe that our collaboration will enhance the shopping experience for all our customers and provide "Buy Now, Pay Later" option across 220+ CMG stores and 22 world class brands."
To mark this significant cooperation, CMG x ATOME offers a special promotion for customers choosing "Buy Now, Pay Later" option to make shopping even more affordable.
Special discount for new ATOME customers worth up to 700 baht
700-baht discount when buying more than 10,000 baht
300-baht discount when buying more than 1,000 baht
Receive an extra discount from participating brands*
(*Please check for more information at a point of sale during a period from 15 June 2022– 14 August 2022)