Business Movement
Central Retail continues its expansion with a 60 million baht investment to launch BnB home Central Chantaburi, a hub of home improvement in a new format, targeting mall-goers and catering to the growth in the Eastern region's real estate
01 July 2022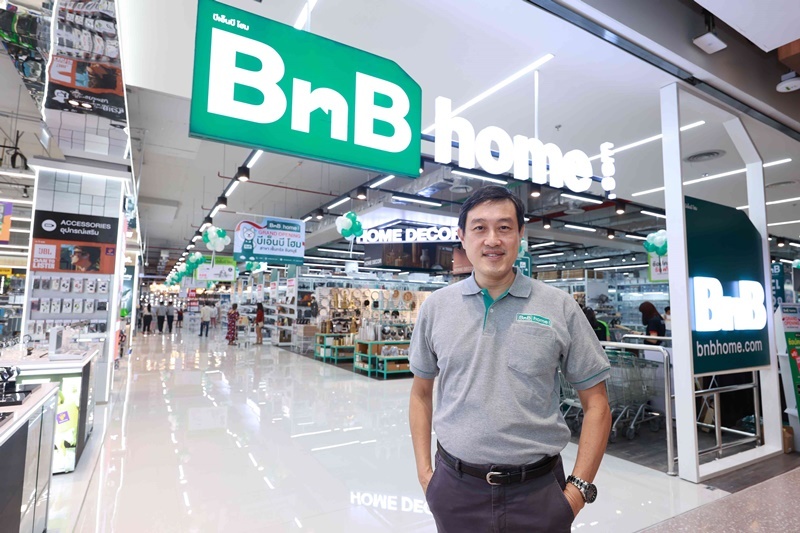 Now open, BnB home Central Chantaburi, a new hub for all home needs that Chantaburi residents cannot miss!
Bangkok, June 30, 2022 - Central Retail Corporation (CRC) accelerates its growth as the #1 retailer by expanding its hardline business for home improvement products. Recently, CRC Thaiwatsadu under Central Retail has officially launched BnB home, a hub of home improvement, in Central Chantaburi. Covering an area of 3,200 sq m, the 60 million baht project offers a wide array of home decor products, bathroom, bedroom and kitchen products, and furniture, with more than 25,000 items to choose from, targeting mall-goers who want to have all their needs met in one place, as well as catering to the economic expansion of the province and the Eastern region's booming tourism.
Mr. Suthisarn Chirathivat, Chief Executive Officer of CRC Thai Watsadu Co., Ltd. under Central Retail, said that Chantaburi province has a lot of economic potential and is a province to watch, as the government is now promoting tourism in secondary cities. The private sector is also increasingly investing in secondary cities. Thanks to its potential, the company has added the 8th BnB home at Central Chantaburi. As it is conveniently located, it can attract the shopping center's customers, as this is the newest mixed-use center in Chantaburi. The store is a 60 million baht investment and will cater to growing demands and purchasing power of consumers in the home sector, both of which are growing steadily.
BnB home Central Chantaburi is a new format with the store being located inside a shopping center, catering to modern consumers who want to meet all their needs in one place. BnB home Central Chantaburi covers an area of 3,200 sq m, well designed in clear zones to offer ease of browsing. There are more than 25,000 items, including home decor items, products for bathroom and kitchen, furniture, sanitary ware, tools and hardware. Additionally, inside BnB home, there is vFix home solution offering services by experts on home maintenance, installation, 3D design, renovation, and consultation for all home needs.
"BnB home is a hub of home improvement which offers an excellent shopping experience with a well-curated assortment of products to meet every home need in every aspect, for every lifestyle and for every generation, with excellent services from our staff. The concept is to go beyond home needs, in line with our CRC Retailligence strategy to become the retailer of the future," said Suthisarn.
Enjoy a new shopping experience to address all your home needs today at BnB home Central Chantaburi on the 1st floor of Central Chantaburi, open daily at 10AM - 9PM. For more details, visit www.bnbhome.com, Facebook, Instagram and Line@ 'bnbhometh', or call 1308.