Business Movement
Tops joins the Embassy of Italy and Italian Trade Agency to present the first 'Italian Cuisine Week' of the year
15 November 2022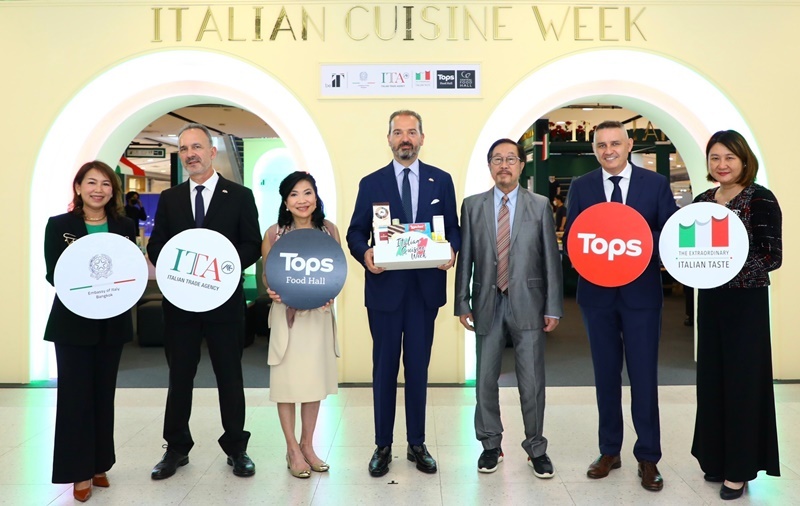 Bangkok, November 15, 2022 - Italian food lovers must not miss this chance! Tops, food retail business under Central Retail, an expert in importing the best products from the best sources around the world, partners with the Embassy of Italy and Italian Trade Agency to organize "Italian Cuisine Week", the first Italian food week in Thailand. Now in its 7th year, the event takes place simultaneously in 110 countries around the world, bringing together the best "Made In Italy" food and ingredients to Thai consumers. There are cooking shows to showcase delicious dishes throughout the event, offering the best food experience, in line with the concept of "Every Day DISCOVERY", during November 14 - 20, 2022 at Eden Zone, 2nd floor, centralwOrld.
H.E. Mr. Paolo Dionisi, the Ambassador of Italy to Thailand, said, "Italy is home to wonderful architecture, unique destinations, and world-famous food culture. The Italian Cuisine Week is a major event that takes place around the world as a way to promote Italy's unique food culture, making it more well-known in Thailand."
Mr. Stephane Coum, Chief Executive Officer - Food Group, Central Retail, said, "Food is an expression of culture. For the Italian Cuisine Week this year, we want to create new inspiration and fulfil every food shopping need for our customers in every day. Italy is a country with long history and it is known for its captivating cuisine. Italian food is popular in Thailand, and Tops would like to introduce authentic Italian food using our expertise and our strength in importing the best products from the best sources around the world. We have brought together over 800 'Made in Italy' items from 118 brands to offer to our customers at this campaign, giving them a feeling of shopping in Italy while they are in Bangkok."
Mr. Giuseppe Lamacchia, The Italian Trade Commissioner, Italian Trade Agency Bangkok, said, "The Italian Trade Agency and Tops have constantly joined forces, with a shared objective of promoting, raising awareness, and building the image of 'Made in Italy' products sold in Thailand. The Italian Cuisine Week not only promotes Italy's food culture, but also stimulates the economy, trade, investment, tourism and culture of the two countries. "Italian Cuisine Week" campaign organized by Central Food Retails is the first important activity in Thailand arranged to celebrate The 7th Week of Italian Cuisine in the World 2022"
At the "Italian Cuisine Week", customers can browse and buy Made in Italy food and ingredients imported from Italy. To welcome the festive season, try loaves from Vergani Panettone, a brand from Milan which has become a symbol of Christmas. Over the past 60 years, the Vergani family has preserved the traditional recipe, process, and culture of the original Panettone of Milan, using natural yeast, while also introducing various flavors such as Black Cherry, Peppermint, and Dark Chocolate, as well as vegan options. Venchi SPA is a chocolate brand which originated in 1878, known for using the finest ingredients and paying attention to every step to ensure the best flavor. Domori is a premium chocolate brand from Turin, known for its decadent chocolate with a unique aroma. Mulino Bianco is a famous Italian biscuit brand made with natural ingredients to offer delicious flavors, perfect for enjoying with a cup of coffee or snacking during the day. Giuseppe Giusti is one of the oldest and most famous balsamic brands in the world. San Cassiano mineral water sourced from mountains around San Cassiano, offering a sense of freshness. There are also pasta, spaghetti, sauce and olive oil products.
Enjoy authentic Italian bakery from The Baker such as cannoli, one of Italy's best-known desserts from Sicily, stuffed with ricotta cheese and topped with crunchy chocolate chips, freshly baked pizza with generous toppings, ciabatta, sandwiches, biscuits, and tiramisu. Indulge in delicious dishes from international chefs at Tops Eatery such as Porchetta and Meatball Marinara. Pasta lover must check out Pasta Kitchen where delicious pasta dishes and soups are served. The campaign is also joined by renowned celebrity chefs, led by Chef Tengnueng Kanis Piyaphapakornkul who will bring authentic Italian flavors, with daily cooking shows throughout the event.
Discover Italian flavors and enjoy a premium food experience without having to fly to Italy at Italian Cuisine Week during November 14 - 20,22 at Eden Zone, 2nd floor, centralwOrld. For more details, visit Facebook TopsThailand, Tops Food Hall or LINE @TopsThailand.
#Tops #EveryDayDiscovery