Corporate News
CRC shows confidence in 2021 business plan foreseeing more than 10% sales growth ready to pay dividend of 0.40 baht/share
01 March 2021
Bangkok, 1 March 2021 –Yol Phokasub, Chief Executive Officer, Central Retail Corporation Public Company Limited (CRC), said that Central Retail showed fast V-shape recovery with performances in the third and fourth quarter of 2020 continued to grow strongly. The company posted the fourth quarter of 2020's revenue of 51,077 million baht, QoQ +7% with profit of 1,102 million baht, QoQ +27%. Central Retail therefore, recorded the total revenue of 194,311 million baht (down 13%) and posted the net profit of 341 million baht (down 97%) in 2020 with the total sale growth of 180% from its omnichannel platform, contributed to 10% of the total sale revenue. Central Retail is also ready to pay the dividend of 0.40 baht/share, with the confidence that the company will see up to 10% sales growth in 2021.
In 2017, Central Retail announced its main strategy of "New Central, New Retail" and its goal to become the "Central of Life". This set its business direction and the ecosystem of Central Retail to develop into the "New Central Retail Lifestyle & Food Platform", as the best ecosystem in Southeast Asia, leading to subsequent business successes as follows:
1. Store renovation and expansion for all business segments including Fashion, Food and Hardline ones to be modern, better meet lifestyles and continuously provide customers with new omnichannel experiences;
2. CENTRAL integrated mobile platform unlocks all the benefits of Central, lists all categories from all business units, and the overhaul of big data on Loyalty Platform to create the Hyper-personalization Offer for the customer base of 24 million people. The new platform delivers all products, omnichannel services and integrated shopping features (buy online, plan a store visit and inside a store) in one place to provide customers with the best experiences. Two months after its launch, the platform has served more than 2 million users.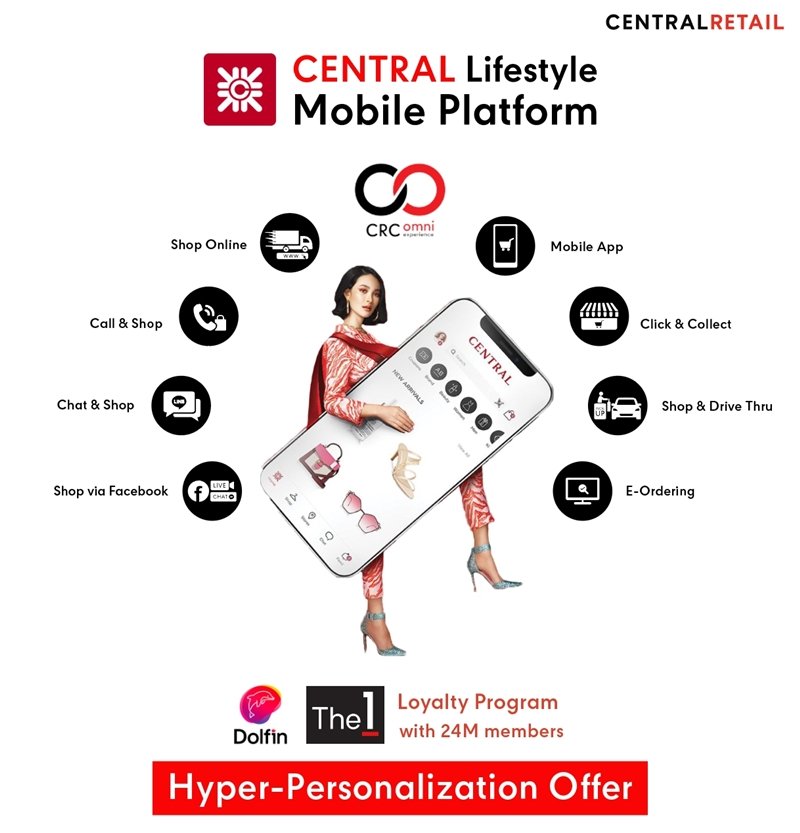 3. Partnership to strengthen Central Retail's overall ecosystem. It joined forces with JD Central Marketplace, with JD Digital to create Digital Payment and Financial Solution (DOLFIN), and with Grab to offer Quick Commerce for food and Tops grocery delivery service, which proved a success, and has already expanded to other product categories to answer to the On-demand needs throughout all categories nationwide.
4. Merger and Acquisition to further grow the Hardline category. Central Retail invested over 12,000 million baht in acquiring with OfficeMate, B2S and meb (no. 1 e-book platform), as well as the B2B Omnichannel Platform. Recently, the Company launched its new flagship store "B2S Think Space" under a new store concept at Central Chidlom, which boasted great reception from customers.
5. Thai Watsadu, under the Hardline business – Outstanding in this field, Thai Watsadu has made soaring sales and become the no. 1 in revenue and be no.1 Omnichannel Home Improvement Retailer within only 11 years after its establishment. Last year its revenue nearly reached 28 billion baht. It plans to expand its business networks in Thailand and overseas aiming to double its sales within 3-5 years.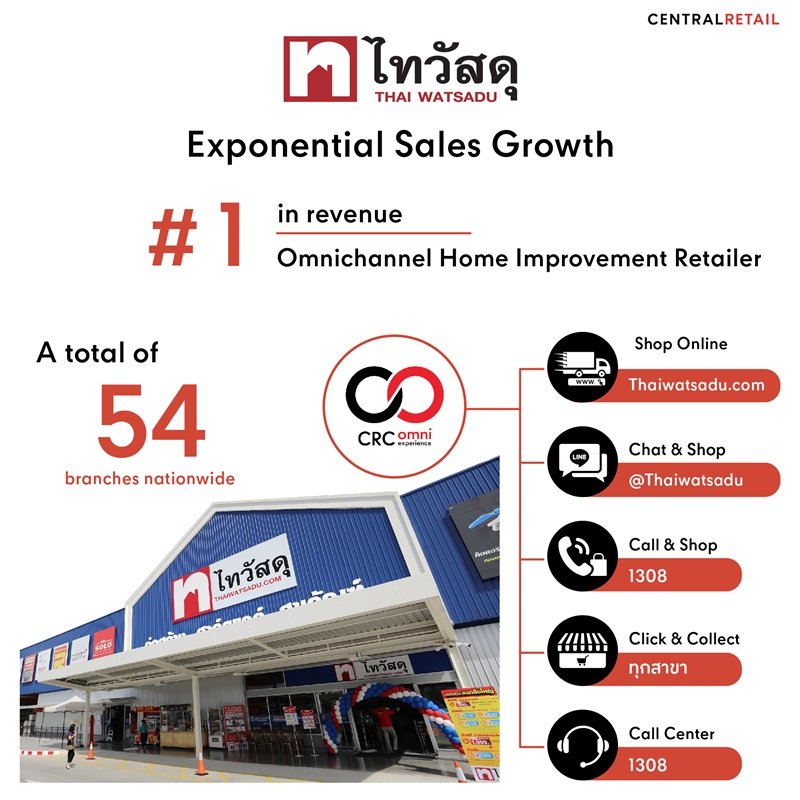 6. Food
In Thailand

: Central Retail has continuously renovated and expanded its Food category to create the best Food Destination experience for its customers. Lad Prao branch has been revamped into Central Food Hall and West Gate and Salaya branches followed the same footstep.

In Vietnam

: Central Retail's key focus in Vietnam is Food and Lifestyle Mall under Big C/GO! Brands. Plans accelerating the launch of integrated omnichannel platform and applying the success of Tops Market were implemented. The goal is to expand go! supermarket to secondary provinces to cover the whole of Vietnam within five years. Currently, Central Retail businesses exist in more than 30 provinces nationwide (accounted for 85% of Vietnam's GDP) with a continuous expansion as Vietnam has twice higher potential for Food and Lifestyle Mall categories comparing to Thailand.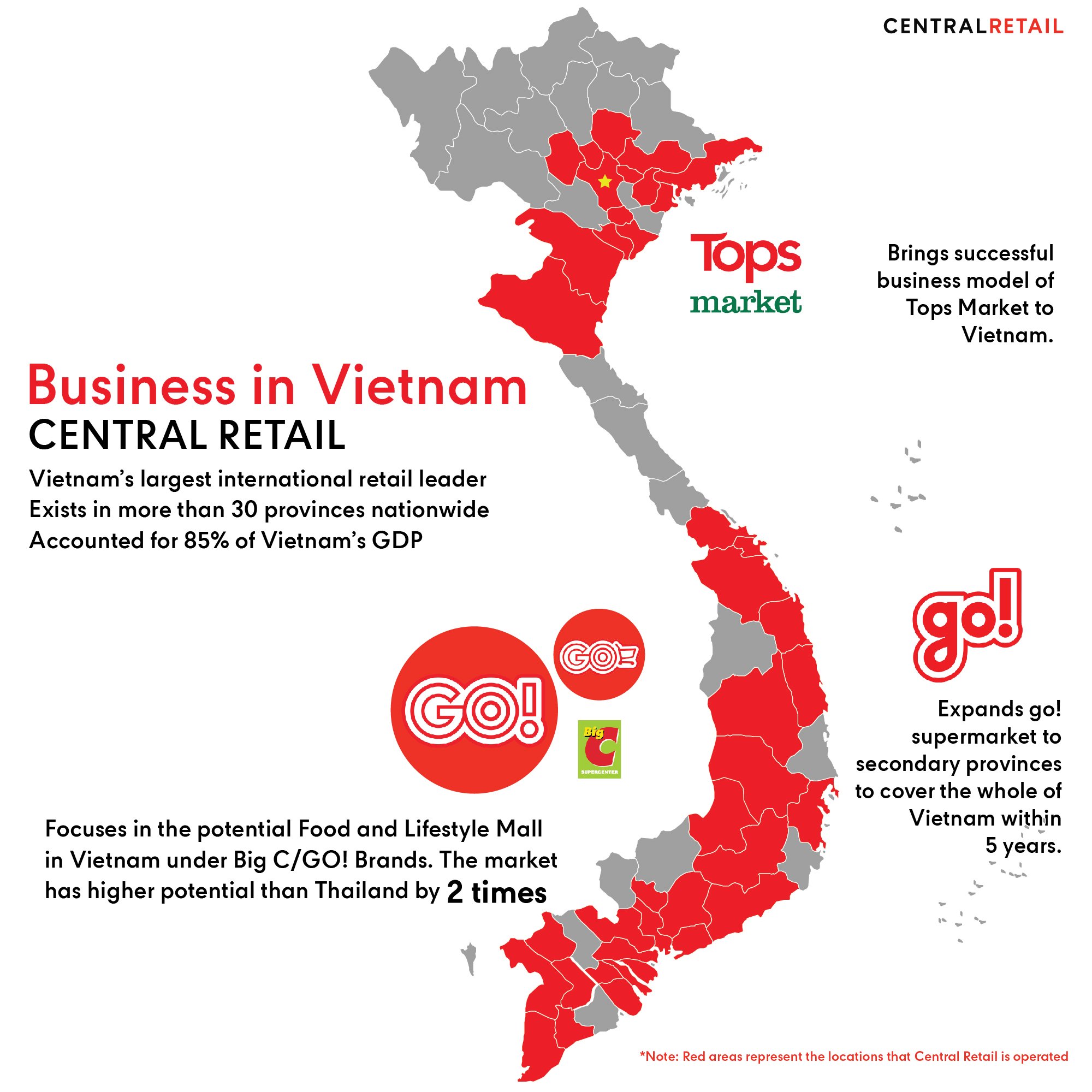 "Year 2021 will continue to be another challenging year. However, Central Retail will upkeep our determination and remain confident that we will be able to move our business forward with more than 10% growth. Through the 18-billion-baht investment in strengthening the ecosystem of Central Retail, we are reiterating our leadership position in the retail industry for all Thais," Yol Phokasub concluded.