Corporate News
CRC Thrives in Q1/2021, Achieving 90% of Pre-COVID-19 Performance
13 May 2021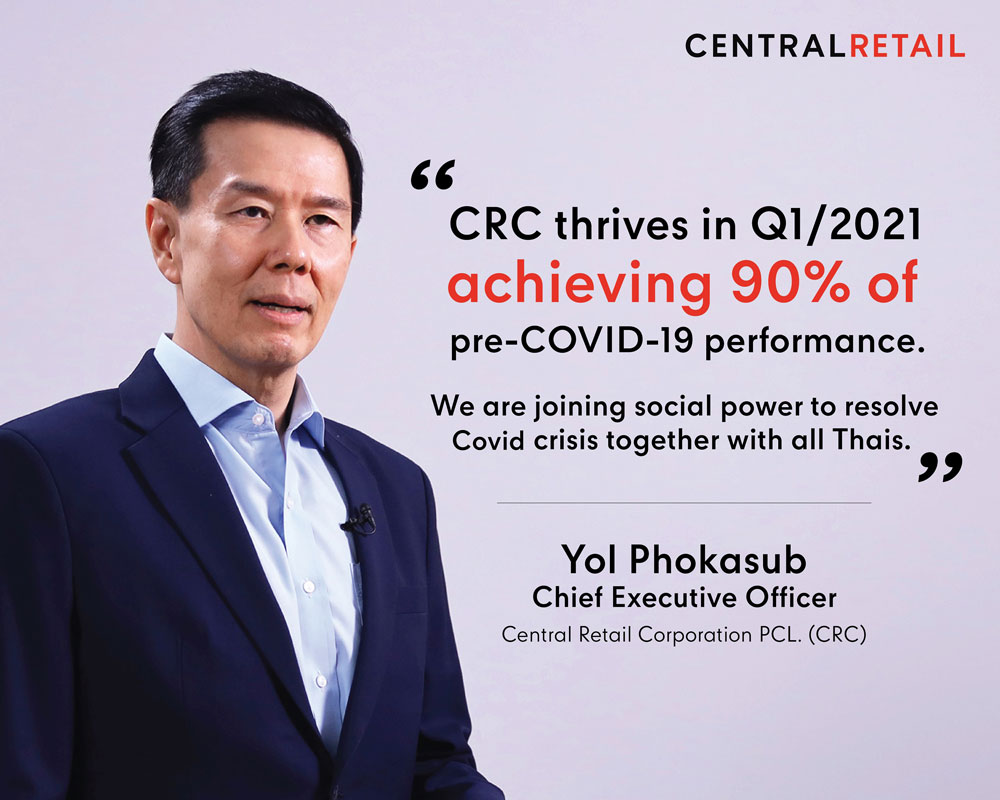 Bangkok, 13 May 2021 - Yol Phokasub, Chief Executive Officer, Central Retail Corporation Public Company Limited (CRC), said, "Central Retail thrives on steadily regaining its balance despite challenges and uncertainties. Our strengths in employees' capability and their growth mindset, innovation and leading position in omnichannel have set a new standard for retail in Southeast Asia. The company takes advantage of the fully leveraged and diversified portfolio to enable business agility; and the synergy between Central and Robinson Department Stores to meet the needs of customers in lifestyle and fashion while accelerating the expansion of Thai Watsadu and Tops Market nationwide and to Vietnam. Central Retail has springboarded the recent acquisition with COL to expand the B2B platform; and in Vietnam, continued to expand the Food category and GO! Malls. Our plan is to increase work efficiency and productivity through technological development and strong cash flow while looking for new business ventures to diversify our portfolio. Central Retail's long-term vision and business plan before the COVID-19 pandemic remain unchanged, and that is to achieve sustainable and profitable growth."
The current COVID-19 wave is far more aggressive and severe than the previous ones. However, the retail leader is confident in its New Central Retail Lifestyle & Food Platform which consists of Central mobile platform, an everyday lifestyle application that is a one-stop-shop for all Non-food products under Central Retail with The1 customer base of more than 18 million members, as well as new customers who are looking for ease of shopping; @Home Platform products under the newly added Live, Learn and Work category to ride on the stay-at-home trend, in which the latest product addition has significantly contributed almost 50% to Q1/2021 sales performance; Tops Online, Quick Commerce, and Personal Shopper For Everyone platforms also played a crucial role in enhancing customer experience in Q1/2021. For offline, all physical stores under Central Retail have lifted highest standard of care to ensure the safety of all our customers and employees.
These contributors helped Central Retail to thrive in Q1/2021 reaching 90% of its pre-COVID performance. The company reported the performance of its first quarter of 2021 with a total revenue of 49,031 million Baht (-9.7% YoY), EBITDA 5,398 million Baht (-8.2% YoY), and a net profit of 459 million Baht (-48.4% YoY). Considering the semi-lockdown situation resulting from the 2nd and 3rd wave of the pandemic where most businesses came to a sudden halt, the impact on the retail market is more severe compared to the previous year but Central Retail remains strong. The company recently approved the dividend payment of 0.40 bath per share from 2020 performance totaling 2,412 million Baht to boost up confidence among shareholders.
"During the crisis, Central Retail adheres to our brand purpose to become Central to Life for all customers, employees, partners and the community. We have stepped up in full and continuous support through 'CRC's Resolve for COVID-19' initiative to assist all sectors in resolving this crisis. We built on our existing platform to offer a total solution for the vaccination rollout program and spaces in 109 locations nationwide starting at Robinson Lifestyle in Ladkrabang; donate corrugated box for the production of 6,000 recyclable field hospital beds and other essentials; and help small SMEs nationwide to access government's soft loan to secure their capital. Central Retail believes that by uniting social power to successfully manage the situation, we can overcome the COVID-19 crisis and boost the country's economy so Thailand can recover and move forward together once again," Yol concluded.