Corporate News
Central Retail launches Tops Vita, Thailand's first O2O vitamins retail, with plans to expand to a total of 150 branches and achieve its sales target of THB 1,500 million by 2027, paving way to its position as #1 in Thailand's vitamins and supplement market
21 September 2022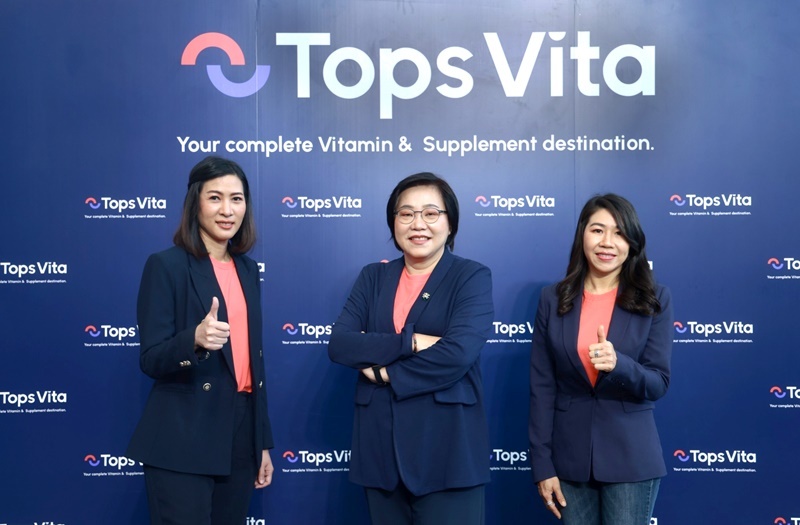 Bangkok, 21 September 2022 - Central Retail Corporation, or CRC, reinforces its first mover position in introducing new business formats with the launch of 'Tops Vita', offering Thailand's first O2O ecosystem of vitamins and supplements, which will pave way towards its establishment as the category champion in capturing market share worth up to THB 200,000 million. With its Offline to Online (O2O) strategy that synergises physical 'Tops Vita' stores with e-commerce channels, the brand offers an elevated shopping experience for health-conscious consumers. Within this year, 'Tops Vita' will expand to a total of 40 branches, including 30 branches as in-supermarket formats and 10 branches within Tops Care, the healthy lifestyle store. By 2024, the company aims to expand to a total of 150 branches across the nation, fully serving the needs of consumers, and by 2027 to achieve sales up to THB 1,500 million as Thailand's #1 vitamins and supplement retail.
Mr. Ty Chirathivat, Chief Financial Officer of Central Retail Corporation Public Company Limited or CRC commented, "Central Retail is guided by the CRC Retailligence strategy, in which one of the key focus areas is about building new growth pillars. We see Thai consumers' growing interests in health and beauty, especially during the spread of Covid-19, which has significantly accelerated the growth of the vitamins and supplement market. Central Retail anticipated investment opportunities in health and wellness category, leading to a THB 200 million investment to launch 'Tops Vita', the comprehensive vitamin and supplement store to serve the needs of consumers seeking for best choices in holistic healthcare.
'Tops Vita', the end-to-end vitamin and supplement retailer is Thailand's first O2O category champion that offers an extensive range of trusted brands and products, delivering seamless shopping experiences. Customers can conveniently access 'Tops Vita' via the website www.topsvita.com, 'Tops Vita' store in Tops supermarket's and Central Food Hall's health and beauty zone, Tops Care the healthy lifestyle store or via Chat & Shop in Line Official. Each channel will be equipped with information and tools to support customers in selecting vitamins and supplements that best suit the needs of each customer. 'Tops Vita' also aims to become customers' top-of-mind brand, serving the needs of health-conscious, modern consumers - especially office workers who require unique care across various ages under the concept of 'Fun Health Exploration', which includes:
Diverse product curation, offering over 1,000 items of vitamins and supplements for health-conscious consumers, including immunity-boosting products, skin and hair supplements, weight management and herbal supplements from leading local and global brands. Exclusive and popular brands from the US such as Now and Life Extension are also available, reassuring consumers who purchase via Tops Vita that all products are 100% genuine and have received certification from the FDA.
Official importer and distributer of leading global brands with an exclusive curation of international and popular brands such as Springleaf from Australia, DHC from Japan and Nature's Truth from the US.
Thailand's first e-commerce platform for vitamins and supplements, which aligns with Central Retail's omnichannel strategy to maximise consumer convenience. The platform's highlight is the smart questionnaire that probes customers' lifestyles and healthcare goals in a fast and convenient way, which was specially developed for Tops Vita by medical experts, enabling the platform to better understand individual needs and tailor recommendations regarding vitamins and supplements.
Platform content by pharmacists and nutrition experts, providing customers with up-to-date, credible, and educational information to help guide their purchase in accordance with their health goals.
"As of date, 'Tops Vita' officially launched 20 branches throughout Thailand as in-supermarket formats, including Central Food Hall at Central Chidlom, CentralWorld and Tops market Central Rama 9. The company aims to expand to a total of 40 branches within this year and expects to launch a total of 150 branches by 2024 across the nation. 'Tops Vita' is considered one of Central Retail's strategies in the constant exploration of new growth engines, paving way for Central Retail's #1 position in Thailand within the health and wellness segment. Moving forward, Central Retail continues to expand and invest in new business formats, driving leaping growth across segments and reinforcing its leadership position in every category as the smart retailer inspiring a strong and sustainable future," Mr. Ty concluded.
For online channels, customers who order products via www.topsvita.com for the first time will receive free delivery from today until September 30, 2022. You can also ask for consultations via Chat & Shop on Line OA: @TopsVita and follow health and wellness content via Facebook: Tops Vita