Tops, the #1 food retailer in Thailand, announces a strategy to recruit new customers with "Every Day DISCOVERY" concept and 4D strategies with "Nine" Naphat Siangsomboon as the first brand ambassador to introduce an extraordinary experience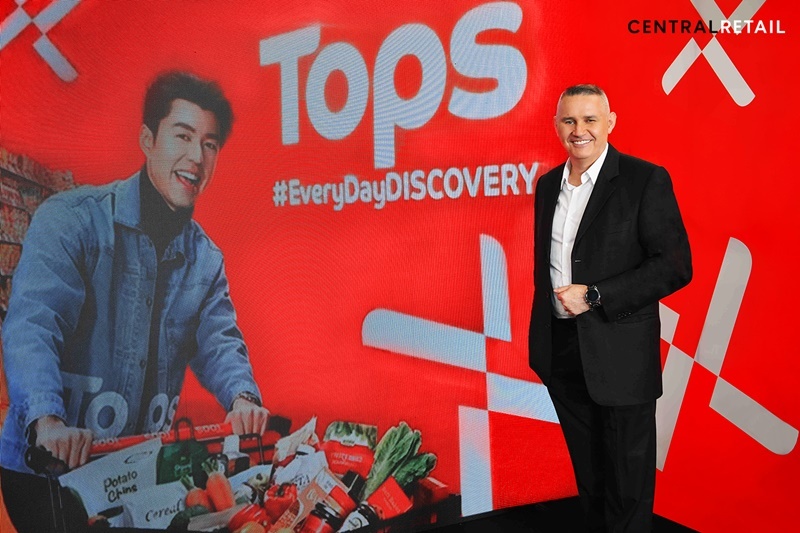 BANGKOK, February 21, 2023 - Tops, food business under Central Retail, leverages its success after a major rebranding campaign to unify its brands under a single "Tops" brand. To drive its business forward and reaffirm its position as the most loved brand among consumers, and to become the ultimate Food Discovery & Destination, it is introducing " Every Day DISCOVERY'' to invite customers to discover another level of experience beyond shopping through 4D strategies to offer an extraordinary experience beyond shopping. On this occasion, "Nine" Naphat Siangsomboon is the first brand ambassador to communicate the brand image in a way that is relevant to modern consumers, reflecting its contemporary and approachable brand DNA. At the same time, to appeal to the younger generation, pop rock group "Tattoo Colour" is chosen to create a special song to invite everyone to discover the best experience every day at Tops.
Mr. Stephane Coum, Chief Executive Officer - Food Group, Central Retail, said that after the rebranding announcement to unify all business models as one brand under 'Tops', its consumers respond well to the new image of Tops. The new image has a strong character, and to create more awareness of the Tops brand in all aspects, this year, the company continued to present the image of Tops in a unique and different way to ensure the brand is modern and relevant. Tops is a brand that understands its consumers and their lifestyles. We will communicate about these aspects through a new campaign, 'Every Day DISCOVERY', to reaffirm its position as the ultimate Food Discovery & Destination. Customers can experience Tops in new dimensions, as it offers more than products, but also new experiences and a seamless shopping service exclusively available at Tops. There are four key pillars under a 4D concept:
Discover great deals: Tops offers great value with campaigns like "Tops Locked Price", with yellow label products that maintain the same prices to support consumers, as well as many marketing activities and promotions that offer unrivalled value all year round such as the most Buy One Get One Free deals, Red Hot discounts, and Weekend Crazy Prices.
Discover newness: Tops is the expert in sourcing the best experiences from around the world with new and exclusive products and many first-in-Thailand brands such as Coles, El Corte Ingles., Waitrose, No Brand, KIRKLAND Signature, MAINSTAYS, DJ & A, LIFETIME.
Discover fabulous experience: Tops is the first retailer to introduce Room Concept, with a total of 15 Room Concepts to offer a new experience from the first step into the store. It also offers a seamless shopping experience through its complete omnichannel platforms, including Tops online which offers freshness, fast services, and guaranteed quality, and Personal Shopper service.
Discover happiness: Tops is committed to developing its organization alongside improving the quality of life, and building sustainability from end to end, positively impacting people, communities of local SMEs and farmers, and the environment, through food surplus management, reaffirming its commitment to be the leader of Green & Sustainable Retail.
Mr. Chakkit Chatupanyachotikul, Head of Marketing, Public Relations & CSV of Central Food Retail under Central Retail, said, "The launch of the 'Every Day DISCOVERY' campaign is the first time we have a brand ambassador to communicate Tops' character to make our brand more accessible for consumers, create a new image that is modern and approachable through 'Nine' Naphat Siangsomboon, who represents modern people with a distinctive lifestyle, fun character, family-loving side, and a charm that appeals to everyone, perfectly capturing Tops' brand DNA. We also use music as a highlight to illustrate our brand character in a fun and relevant way, with a new song, 'Every Day ', composed and sung by 'Tattoo Colour'. We will invite everyone to join our TikTok Challenge with dance moves designed by professional choreographers to have fun and get healthy together."
Tops has also revolutionized its communications in out of home, digital, and in-store media to suit modern consumers under Seamless Communications strategies, connecting online and offline channels to expand its reach and maximize its communications. It will focus on engaging storytelling and contemporary design to attract consumers, making every channel a powerful tool that delivers a unique experience every day, making Tops the most loved brand of its customers.
"The 4D strategies to expand our customer base, under the concept of Every Day DISCOVERY, are just our first step for the year. Tops has many upcoming activities and promotions to promise extraordinary experiences every day. Every step reaffirms that Tops is the leader and one of a kind, as the ultimate Food Discovery & Destination," said Stephane.
Tops is ready to introduce its first brand ambassador "Nine" Naphat Siangsomboon and Every Day song for customers to discover a new experience at Tops nationwide from February 22, 2023. For more details, visit www.tops.co.th, Facebook TopsThailand and LINE @TopsThailand.
#Tops #EveryDayDISCOVERY #TopsxNine