CRC Retailligence
Shaping our next era
Central Retail today has become Thailand's leading multi-format, multi-category and omnichannel retailing platform. The company continues to grow internationally, securing its leadership status in Italy and is recognised as one of Vietnam's retail leaders. Behind our portfolio of diverse retail banners known for its leading market positions across categories is the iconic "Central" brand whose reputation for delivering the best, customer-centric approach to retailing dates to over 75 years in Thailand.
Since embarking on our digital transformation journey under 'New Central New Retail', Central Retail has consistently shaped the evolution of customer lifestyles and introduced new retail formats that serve diverse needs. Now staking its claim as the industry's leading Omnichannel Retailer, the company builds on this proven success and ignites an exciting new era ahead.
Moving forward, Central Retail is guided by 'CRC Retailligence' strategy that serves as our strategic compass towards becoming Asia's #1 retailer of the future. Powered by key growth drivers, we strive to reinvent next-gen omnichannel retail fueled by comprehensive data ecosystems, accelerate core leadership, build new growth pillars, and drive partnerships to move Central Retail boldly towards new frontiers. We are committed to win in new consumer paradigm with enhanced and hyper-personalised experiences across all business segments, and to ensure that we stay anti-fragile against future disruptions and dynamic markets.
With our expanding footprint, both locally and globally, we join forces with world-class partners to capture new growth opportunities to stay ahead of the market. Through this partnership-first DNA, we continue to inspire collective success and enable value-led sustainability in everything we do.
Central Retail Ecosystem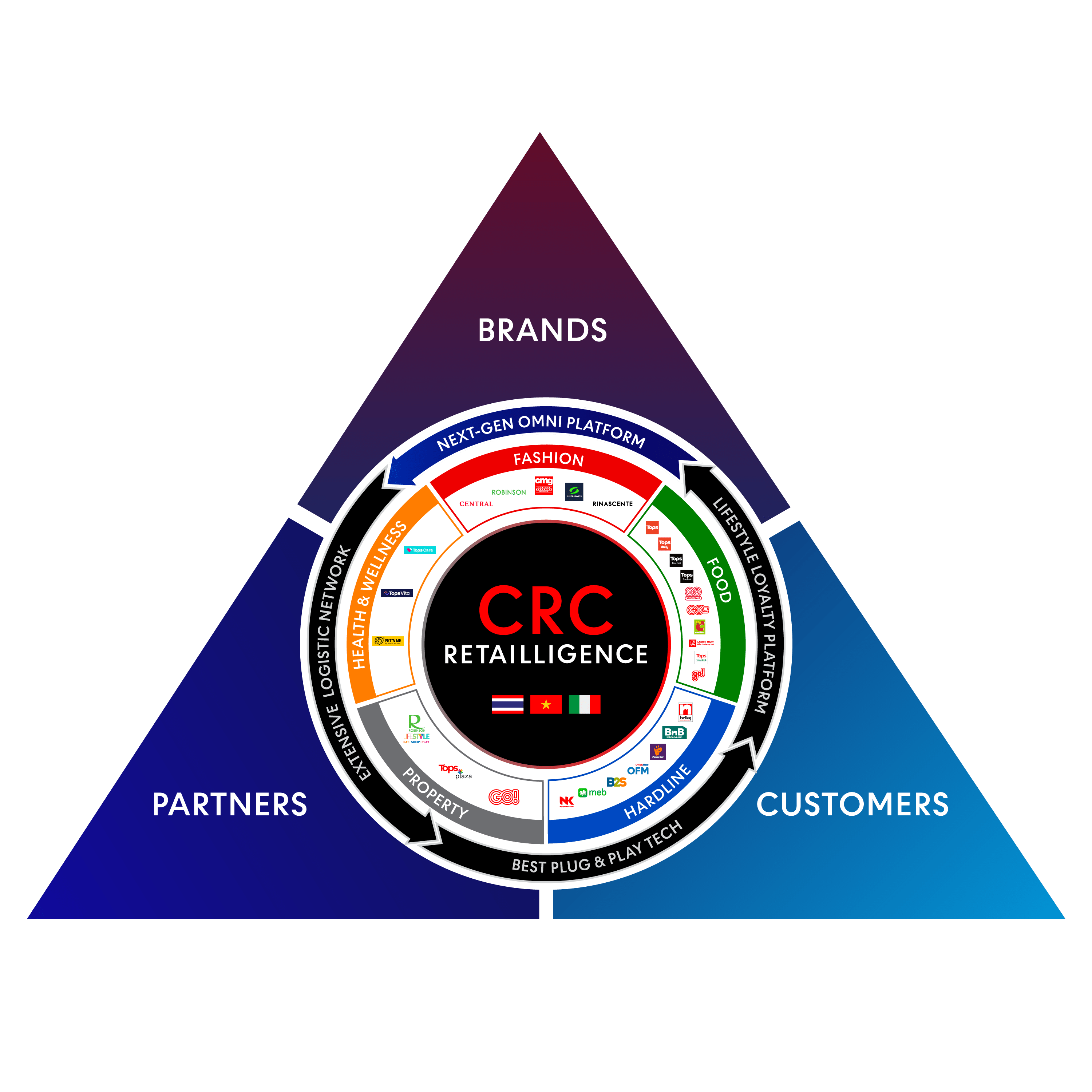 Competitive Strengths
Power Like No Other

Guided by the pursuit to deliver the best experiences for our customers and drive growth for our stakeholders, Central Retail's expertise is a mix of different 'powers' that come together to drive the company forward.
The Power to Lead
As Thailand's leading retailer, we house a powerful portfolio of retail banners consisting of over 1,726 stores across Thailand. We are also growing internationally, securing leadership status in Italy and becoming one of the leaders in Vietnam. We are a pioneer in omnichannel retailing in Thailand, complementing its retail store network and merchandise offerings with leading positions among store-based retailers in online traffic.
Operates 647 department stores and specialty stores, 357 brandshops, 778 supermarkets and hypermarkets
Supports businesses through retail leasing across store formats and locations
Pioneered omni-retailing since 2012
The Power to Innovate
Our name is synonymous to the innovation of retail experiences. Central Retail leads the way in developing shopping destinations, lifestyle centres and specialty stores that answer to the needs of changing consumer lifestyles. The company's innovative approach is reflected through its creation of unique shopping experiences.
Tops Daily offering ready-made meals and co-working spaces
Central Food Hall with the experience to dine-in whilst shopping for premium groceries
Supersports 'Run Lab' offering tailored services for customers to choose the right running shoes
Thai Watsadu 'AUTO1', providing full-service car maintenance and 'vFIX service' connecting customers to certified building contractors
Omnichannel retailing platforms consisting of 10 active webstores
The Power to Connect
The scale and diversity of our retail ecosystem is one of many factors that attract the attention of prominent global brands seeking for a long-term partner with distribution channels in Thailand. Through our comprehensive network, it also enables greater synergy and efficiency in our operations, attracting high-level executives, top talent and major suppliers and partners. In turn, such competitive capability empowers us to offer holistic benefits to our customers and partners.
We have loyalty programs with a total of 28 million loyalty members from The1 in Thailand, Big Xu Card in Vietnam and Rinascentecard in Italy as of 30 June 2023.
Synergy with Central Group allows us to secure prime locations, guide store concepts and continuously renovate spaces
Support from Harng Central Department Store (HCDS) allows us the right to acquire some of HCDS business before it can offer the business to other buyers
The Power of Partnerships
Central Retail has a strong track record of international expansion mainly through acquisitions and joint ventures. Its partnerships in Vietnam has witnessed positive response. The same success is seen in Italy where the acquisition of Rinascente has made the retail center a must-visit shopping destination for tourists.
Formed joint ventures in Vietnam with Nguyen Kim and Lanchi Mart in 2015
Acquired Big C Vietnam in 2016 and continued expansion sine then
Acquired Rinascente Italy in 2011, and adapted offerings to the demands of Italian customers
The Power of Great Minds
Powering the continuous success of Central Retail is its management team that works alongside the Chirathivat family. The team consists of executives who are equipped with high-level expertise and proven experience in the retail industry. And through our proven leadership position, we consistently attract top talent locally and globally. Through our combined capabilities as one team, we believe there are few other retailers with a management team that could match our expertise and experience.