CMG's Fashion Category posts strong Growth; will Surpass 10 Billion Baht in Sales by End-2023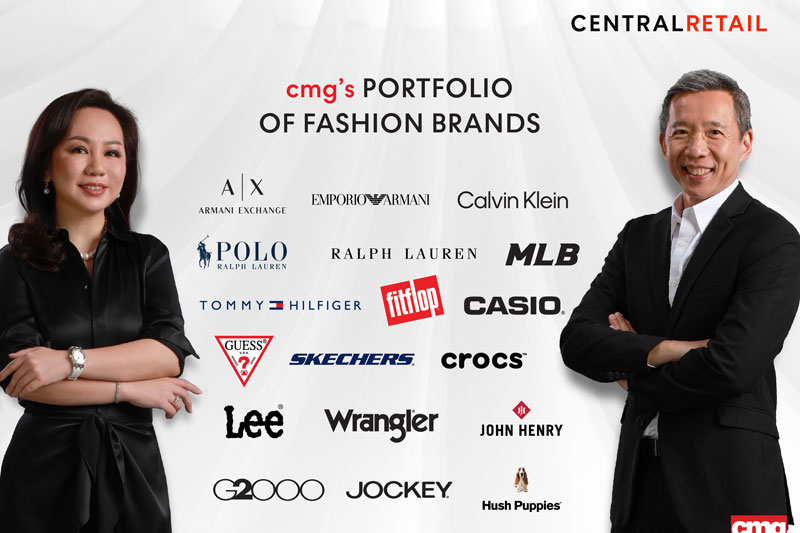 Bangkok, 24 August 2023 - Central Marketing Group (cmg), a subsidiary of Central Retail Corporation and Thailand's market leader in the distribution of more than 40 world-class lifestyle brands, including fashion, beauty, and technology products, and is on track to exceed 10 billion baht in revenue for its Fashion category by end-2023, spurred by investments of 1.3 billion baht to accelerate brand and platform expansion.
"Fashion represents significant growth opportunities for us, across all key segments such as apparel, footwear, accessories, and watches. We have constantly upgraded our fashion brands portfolio to remain top-of-mind and relevant to a broad set of customers," said Mr. Edwin Yap Hawson, President of Central Marketing Group. "Our Fashion category is our largest business, accounting for 2/3 of our total CMG revenue. Especially in the last 3 years, we have seen a strong uptick in premium fashion, as well as street fashion and comfort fashion, driven by Gen Y and Z customers. Also, Thais are among the most fashion-forward customers within Asia, so we creatively innovate on our merchandise assortment, to cater to our local customers' preferences. As a result, we have also attracted a lot of fashion-savvy tourists to shop for their needs in Thailand, making Thailand a recognized fashion center within Southeast Asia."
Ms. Jitrudee (Joyce) Panitpon, Head of Fashion and Watch Category of Central Marketing Group (cmg), said, "Fashion category is considered a core enterprise and a significant lifeline of cmg. With over 20 world-class brands for the luxury, premium and mainstream segments, cmg offers a diverse range of products that appeal to various demographics. These include brands such as Polo Ralph Lauren, Emporio Armani, Calvin Klein, Guess, Tommy Hilfiger, Casio, MLB, A|X Armani Exchange, G2000, Lee, Wrangler, Jockey, John Henry, FitFlop, Skechers, Crocs and Hush Puppies.
In addition to a large selection of products to satisfy all its customers' needs, cmg's Fashion category has more than 1,900 points of sale, helping to propel cmg's sales to new heights. Sales have increased more than 16% year-on-year, as compared to 2019 (pre-COVID-19). Furthermore, sales have increased by 34% from the previous year (2022) and are predicted to rise further until the end of the year. Notably, the premium category had the biggest increase in sales, with a +131% increase versus 2019 (pre-COVID-19) and a +49% year-on-year increase.
"We have achieved significant success in our fashion business by continue adding new brands to our portfolio each quarter. We also consider business partners that can widen the scope of the business so that we can grow and thrive together. Furthermore, our strong presence in online sales channels enables cmg to reach all target groups more broadly, such as launching an e-commerce website for our top brands, creating Tiktok stores, and performing live broadcasting across numerous social networks," shared Ms. Jitrudee (Joyce) Panitpon. "The most critical factor in our success is our employee development. To maintain our position as market leader in Fashion, and be ready to handle any upcoming disruptions, cmg intends to be the hub of talent with excellence in retail disciplines, and with a desirable company culture for the new generation."
"Our vision is to be the undisputed leader in Fashion retailing in Thailand. We shall do this by delivering superior customer experiences across all touchpoints, and constantly innovating to bring new brands and fashion trends into Thailand. With our strong portfolio of fashion brands, as well as our beauty and technology brands, we at CMG are aiming to be the No.1 trusted provider of lifestyle brands in the hearts of our beloved Thai customers, said Mr. Hawson.