"Power Buy App" Won the Retail Asia Award 2023 Reinforcing Power Buy's Position as the Leading Retailer of Electric Appliances and Electronic and IT Products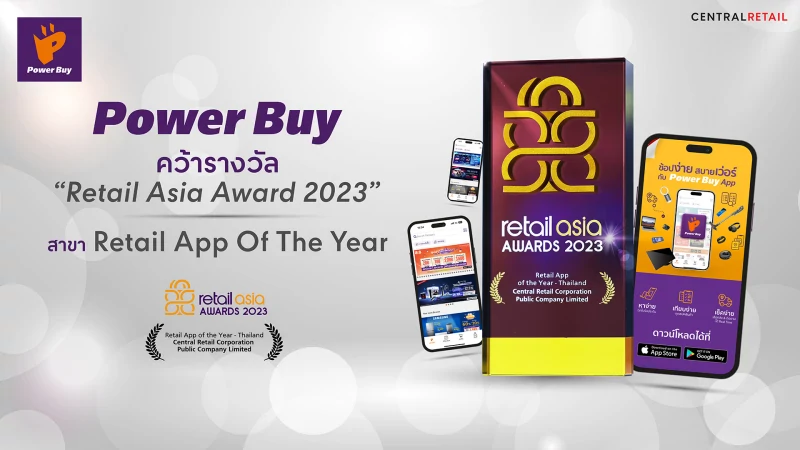 Power Buy, under Central Retail Group, once again proved its success as the leading retailer of electric appliances and electronic and IT products. Its "Power Buy Application" recently won the prestigious 'Retail Asia Award 2023' in the 'Retail App of the Year 2023' category. It serves as a platform that provides the most seamless shopping experience and perfectly fulfills the needs of all consumers in the digital age.
Mr. Varawut Pongchinpak, President of Powerbuy Co., Ltd., under Central Retail Group, said, "We are proud and honored to receive the Retail Asia Awards 2023 in the Retail App of the Year category from Retail Asia. It proves our strong commitment to developing new services for the customers' best benefit. This time, we introduce the innovative "Power Buy" application, which suits people's lifestyles in the digital era. As an indispensable platform for retail businesses, it allows us to gain customer insight and enhance customers' shopping experience effectively. Therefore, this application reinforces our position as leading retailers of electric and electronic appliances.
With a strong intention to keep developing the business, Power Buy developed the "Power Buy Application" as an omnichannel platform. The company integrated research findings on issues customers are facing when shopping online. It came up with three features that perfectly meet their needs: 1) Virtual Warranty Card: a feature for customers to collect warranty cards for purchased products in one place, making it easier and faster for customers to receive after-sales service; 2) Product comparison: a feature for customers to compare product features and specifications side-by-side, clearly and easily; and 3) Real-time order tracking: a feature for customers to choose a method of delivery, and track the status of their purchased product and see scheduled delivery time. Furthermore, Power Buy applies new and advanced technologies and upgrades the application quality to enhance efficiency, such as increasing the app speed and adding functions needed.
The Retail Asia Award 2023 proves the achievement of Power Buy and all the employees who have driven the business. The company, currently widely accepted among Thai consumers, can finally step into a global platform. On this occasion, we would like to thank our partners and customers for their constant trust in Power Buy. We will strive to develop the business and deliver the best shopping experience to customers," concluded Mr. Varawut.