Central Retail thrives in Vietnam, secures top position Reputable Retail Company Award for the 3rd consecutive year, reinforcing Thailand's strong business presence in Vietnam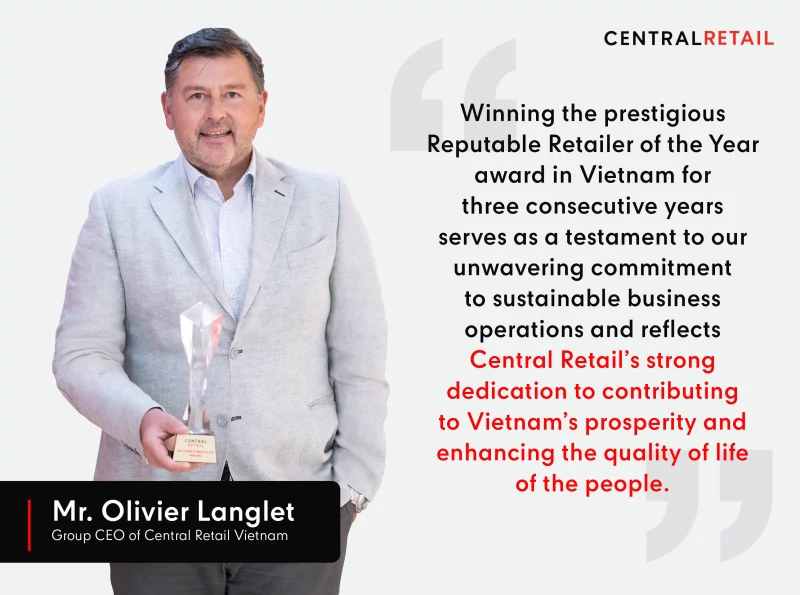 Bangkok, 2 November 2023 — Central Retail Vietnam is delighted to announce its continued success in the retail industry, securing the No. 1 spot among the top 10 Reputable companies in the Food, Beverage, Retail and Packaging Industries for the third consecutive year in 2023. This ranking is conducted by Vietnam Report (VNR), a leading company specializing in reporting, evaluating, and ranking businesses, products, and services in Vietnam. The recognition of Central Retail Vietnam as the best retail company this year is attributed to the company's robust financial standing and its enduring positive reputation among media and the Vietnamese people. This underscores its position as the largest international retailer in Vietnam, operating with stability and with a mission to enhance the quality of life for the local communities.
Mr. Olivier Langlet, Group CEO of Central Retail Vietnam, stated that "In the challenging economic landscape of 2023, Vietnam, like the rest of the world, has faced its share of difficulties. However, Central Retail remains committed to robustly expanding its investment portfolio, fueling growth across the Food, Non-Food, and Property categories. Currently, Central Retail's business operates over 340 retail stores across 40 out of the total 63 provinces in Vietnam. These include 77 food retail stores, comprising 38 GO! Hypermarkets and 39 supermarkets. Additionally, there are over 200 non-food retail stores and 39 GO! Mall. Our aim is to diligently establish the GO! brand as the 'Top-of-Mind' brand for the people of Vietnam, earning the trust of consumers and business partners alike through product and service quality. Furthermore, we are prepared to continually expand our investments in Vietnam to ride on the country's economic growth and consumer buying power. The goal is to expand to 600 stores across 57 provinces and become Vietnam's #1 Omnichannel Food Retailer and #2 in the Property business by 2027."
"Central Retail's commitment goes beyond business expansion. We are dedicated to strengthening the community and continuously enhancing the quality of life for the people of Vietnam through various social activities in all dimensions of education, society, and the environment. Earning the prestigious Reputable Retailer of the Year award in Vietnam for three consecutive years serves as a testament to our unwavering commitment to sustainable business operations and reflects our strong dedication to contributing to Vietnam's prosperity. On behalf of Central Retail, I would like to express my gratitude to all Vietnamese consumers for their steadfast support and trust in Central Retail throughout the years. We will continue to progress, enhancing our products and services to deliver the best experiences to consumers and ensuring sustainable and inclusive growth alongside Central Retail," concluded Mr. Langlet.