Central Retail concludes 9-month operation with a 26% profit surge, aiming to set a "new-high" in Q4 with the launch of 'CRC Celebration of Happiness'
Bangkok, 14 November 2023 — Mr. Yol Phokasub, Chief Executive Officer of Central Retail Corporation Public Company Limited or CRC announced, "Central Retail reinforces its leading position in the retail and wholesale industry in Thailand and overseas, demonstrating the company's robust performance during the initial nine months of 2023, disclosing a total revenue of THB 182,784 million, signifying a 7% increase, and a net profit of THB 5,257 million, marking a noteworthy 26% surge in profitability.
Concurrently, in the third quarter of 2023, CRC's operations in Thailand continues to see sales surge, mounting by 6%. The fashion segment showcased a remarkable 8% growth, while the sale of home improvement materials at Thai Watsadu witnessed a remarkable 12% upsurge. In Vietnam, CRC adeptly adjusted its operational strategies to respond to transient economic fluctuations. Consequently, the cumulative performance for the third quarter reported a total revenue of THB 59,576 million, manifesting a 3% increase, and a net profit of THB 1,254 million, albeit a marginal dip of 0.3%."
Highlights of CRC's business endeavors:
1. The launch of 'GO Wholesale,' an all-inclusive food wholesale center, featuring four branches in the final quarter of 2023. The first branch was launched in Srinakarin on 27 October 2023, with subsequent branches in Chiang Mai, Amata Nakorn in Chonburi, and Pattaya. As the New Growth Engine for CRC, GO Wholesale delivers a fresh and tailored shopping experience to diverse customer groups, notably the HoReCa group, comprising hoteliers, restaurant owners, caterers, retailers, and food lovers. The response from entrepreneurs and customers has been overwhelmingly affirmative.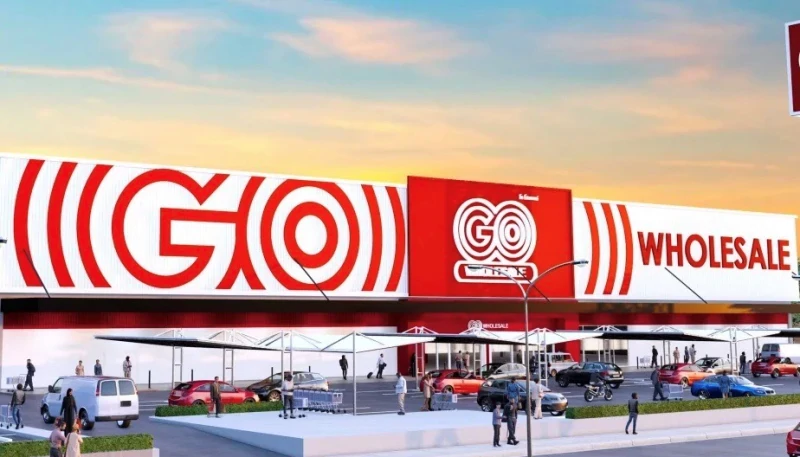 The launch of the first 'GO Wholesale' Srinakarin branch On October 27, 2023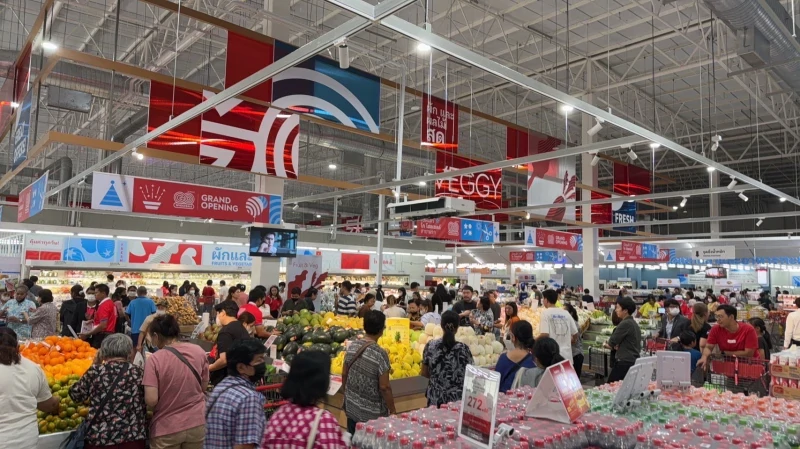 The first branch was met with the overwhelming responses from both business owners and customers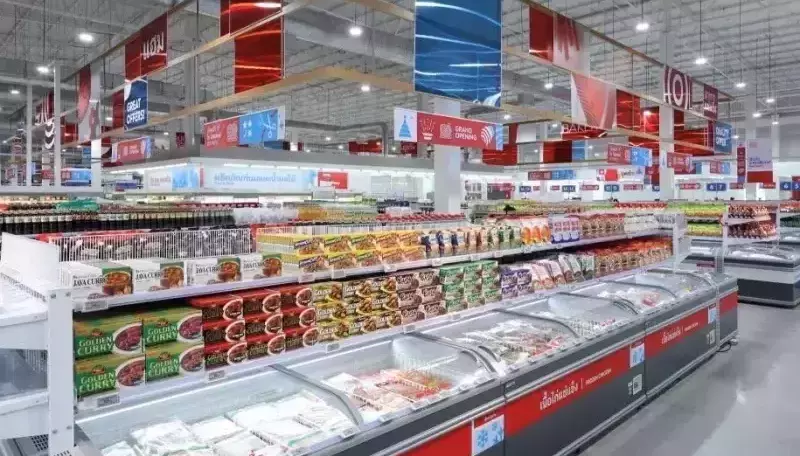 The food wholesale center providing the most various and completed frozen food options in Thailand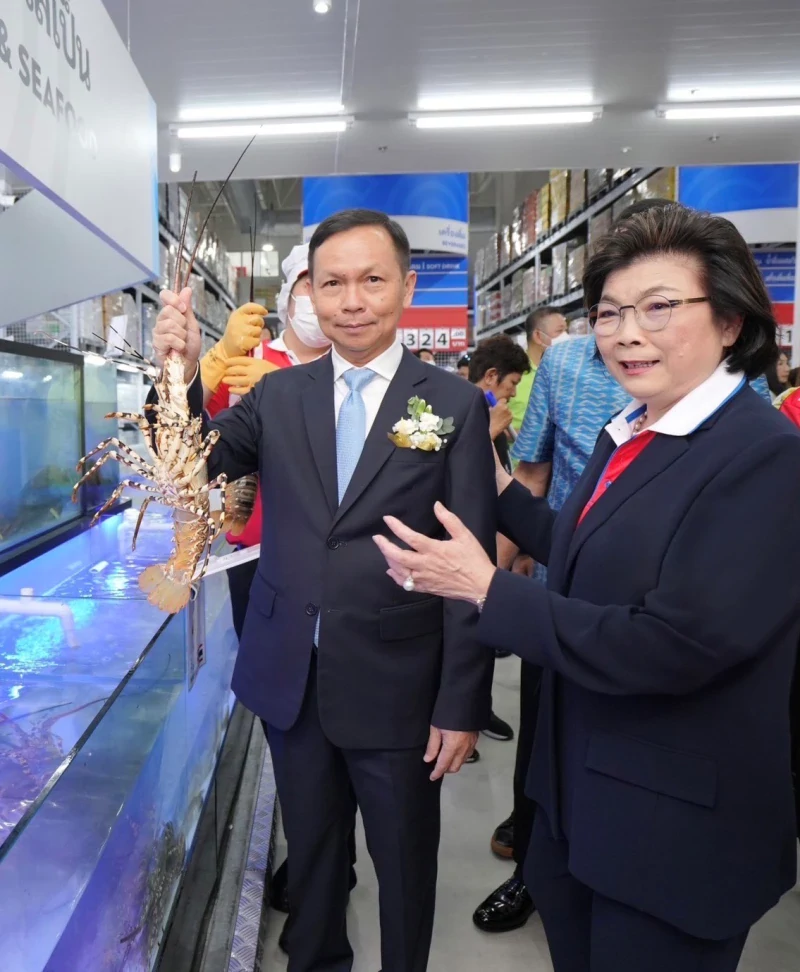 The food wholesale center providing the most various and completed frozen food options in Thailand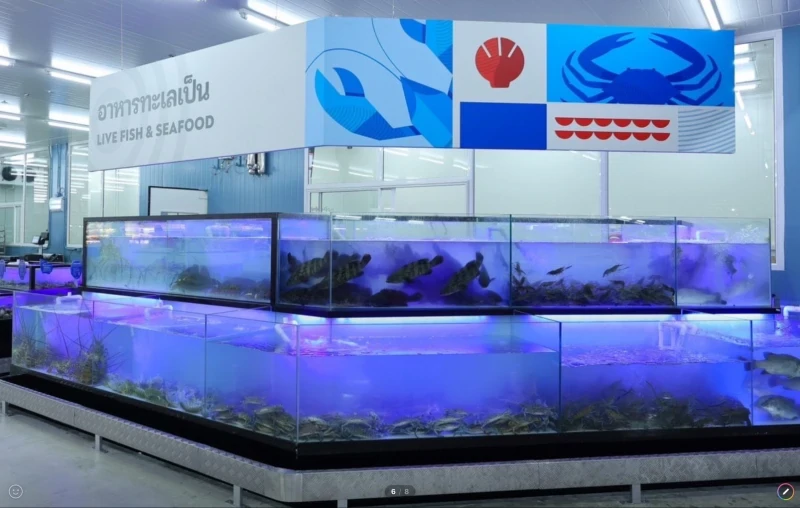 Experience the gigantic live seafood corner, the recreation of an ocean amidst the wholesale center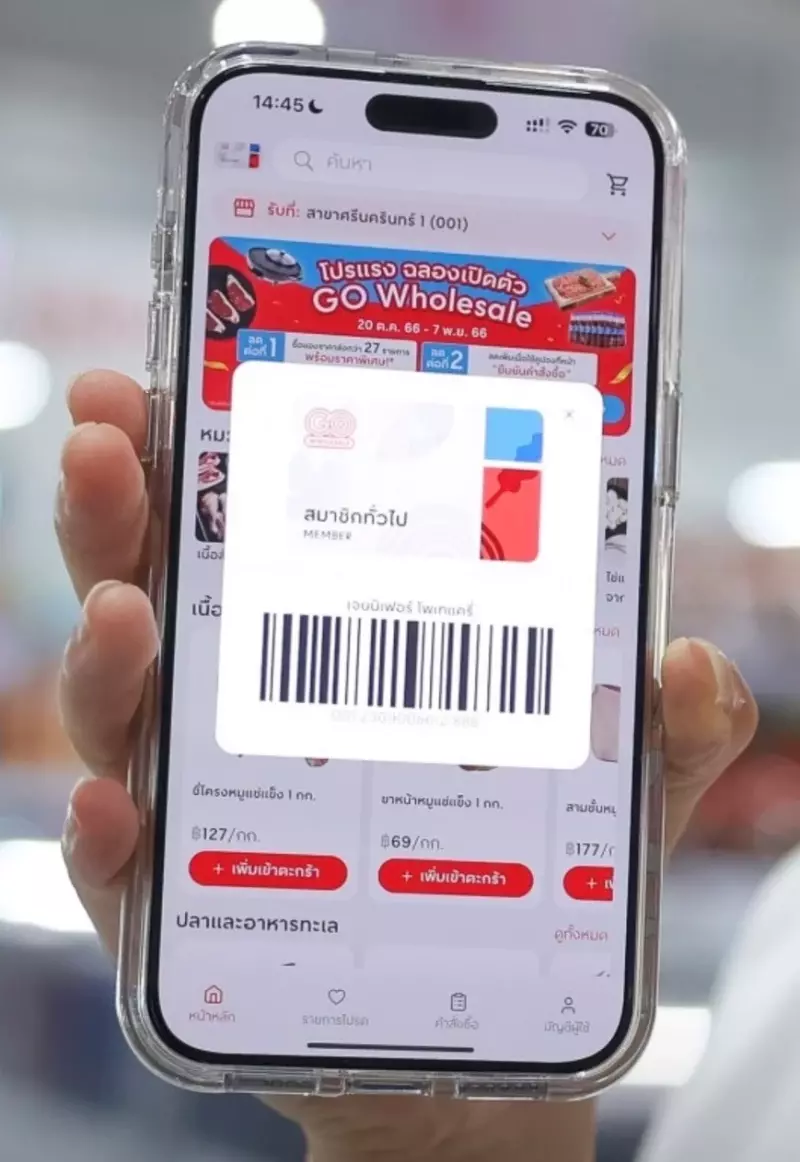 GO Wholesale mobile application for purchasing products at wholesale prices for entrepreneurs
2. Central Chidlom branch underwent a transformation to ascend as the foremost luxury department store in Southeast Asia. This transformation included an investment exceeding THB 500 million in the construction of a new building and an expansion of the floor space to 23,000 square meters at Mega Bangna. This expansion aims to accommodate the growing customer base in the Bangna area. Additionally, Fashion Island raised a new flag, identifying as Central, and an array of new brands, including YSL, Sisley, Jo Malone, Dyson, and Hermès Beauty, were integrated to comprehensively cater to customer preferences.
3. The launch of Central Westville on the western periphery of Bangkok is scheduled for 29 November, marking the cumulative number of Central Department Store branches in Thailand to reach 76.
4. A grand opening celebration for Robinson Lifestyle Chalong, Phuket on 25 November marks the second CRC shopping mall in Phuket, poised to serve both Thai and international tourists. It stands as the 28th shopping mall under Central Retail's Property business.
5. Thai Watsadu underscores its status as the preeminent DIY Home Retailer and a frontrunner in the hybrid format by combining Thai Watsadu and BnB home, which has garnered a resoundingly positive response. They proudly announce their success in expanding their branches to 14 this year, bringing the total count of Thai Watsadu branches to 81 throughout Thailand.
6. Rinascente Italy, has witnessed a sustained surge in sales, registering a 20% growth during the first nine months of this year. This underscores the success of the renovations executed in various branches, catering to both local clienteles and an escalating number of international tourists.
7. In Vietnam, GO! Malls totaling 39 branches, have observed an 18% increase in rental income during the first nine months of this year. Simultaneously, GO! Hypermarket continues to assert its preeminent standing as the number 1 hypermarket in Vietnam, boasting 38 branches nationwide. Furthermore, they have expanded go! Supermarket by incorporating four more branches, culminating in a total of 10 go! branches by year-end.
Central Retail harbors unwavering confidence that the fourth quarter of this year will usher in new heights, buoyed by the readiness of all business segments within the group. They have meticulously prepared their products and services to deliver an exemplary service to customers, both Thai and tourists, during this high season. They are set to ignite 'CRC Celebration of Happiness' campaign, with the aim to create excitement among shoppers and stimulate spending from both locals and tourists alike. They reinforce their status as the comprehensive 'One Stop Gift Destination,' on the best omni-channel platform in Thailand, delivering three gifts of happiness including: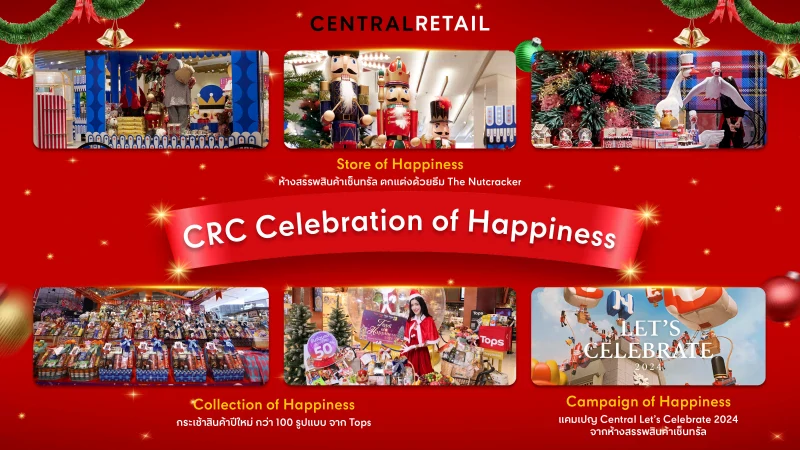 Store of Happiness Transforming stores and shopping centers into havens for celebrating Christmas and New Year. For instance, Central Department Stores are to be decorated with classic characters like The Nutcracker, while Robinson Department Stores and Robinson Lifestyle Malls adorned with Disney's 100th Anniversary theme. Featuring beloved characters 'Mickey Mouse & Minnie Mouse,' they will disseminate joy throughout the campaign. Tops will spotlight its quintessential feature, the Tops Snow Globe – the realm of happiness.
Collection of Happiness Emphasising their role as the One Stop Gift Destination, CRC will gather the finest gifts from across the globe. Limited editions and novel collections stand ready to deliver happiness exclusively during this festive season. This includes holiday products from Central Department Stores, over 100 varieties of New Year hampers from Tops, and the most fragrant Christmas trees, sourced from Canada by Thai Watsadu.
Campaign of Happiness: Spreading happiness through special deals designed for esteemed customers, this includes the 'Central Let's Celebrate 2024' campaign from Central department stores, the 'Robinson & Robinson Lifestyle Wonder Celebration' from Robinson Department Stores and Robinson Lifestyle Malls, and the 'Tops of Happiness 2024' from Tops, among others.
"Central Retail remains steadfast in its commitment to conducting business with unwavering vigour, with a singular focus on delivering the utmost customer satisfaction. We are also primed to collaborate with the public sector, fostering collective efforts to propel Thailand's economy into rapid and sustained growth," concluded Mr. Yol.