Tops highlights its sustainability store concept by partnering with Unilever Thailand and SCGC to introduce the first "Refill Station" at Tops Market Westgate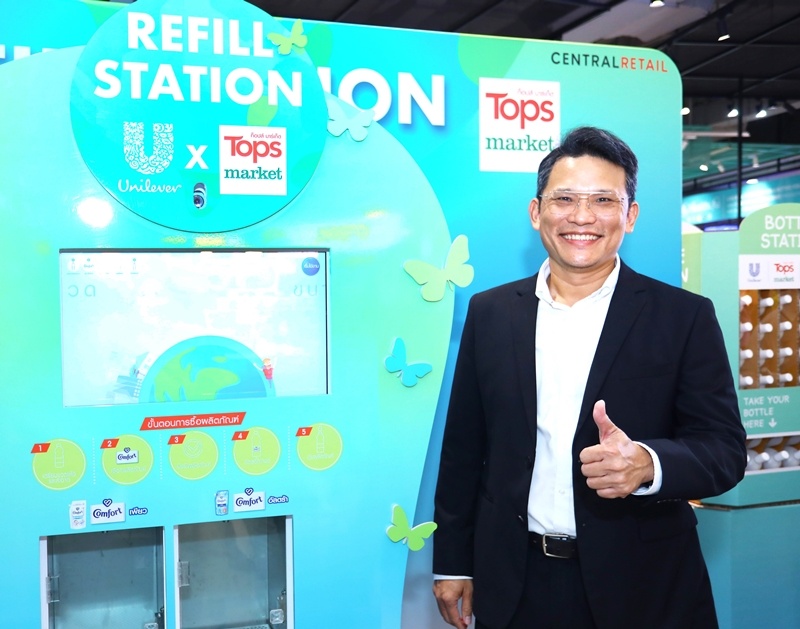 Today, the world has more plastic waste than it can handle, partly because we are used to the convenience that plastic brings, but do not manage plastic waste properly. Most of the plastic waste is single-use plastic and more and more ends up in landfills. They take hundreds of years to decompose, meaning they sit in the landfills for a long time, taking up space and wasting resources. In Thailand, 12% of waste is plastic waste, or 2 million tons a year. However, only 0.5 million tons (25%) of our plastic waste is put to use, while the remaining 1.5 million tons (75%) is not utilized (source: Office of Natural Resources and Environmental Policy and Planning).
To be part of reducing plastic waste volumes and campaigning for re-use, Chakkit Chatupanyachotikul, Head of Marketing, Public Relations & CSV of Central Food Retail under Central Retail, said, Tops is aware of the issue and gives it top priority. It is the first supermarket to enter into a cooperation with Unilever Thailand and SCGC to jointly make a difference with the launch of a pilot program, the first ever "Refill Station" in Tops Market Central Westgate. This program has the objective of building awareness among the public and giving them a role in managing waste by reducing single-use plastic and encouraging re-use to create value. Customers can bring in their old packaging which has been cleaned to refill with fabric conditioner from the new Refill Station.
This undertaking has a number of benefits for every party - a reduction of plastic waste, a reduction of energy and raw materials in manufacturing virgin plastic which cause pollution, reusable bottles vacating increased landfill area available for other non-reusable plastic, Most importantly, refilling at the Refill Station helps customers to save up to 30% on their spending, with a litre of Comfort fabric conditioner costing 92 baht from the usual price of 147 baht. For both products on offer, the public is confident that the quality is no different to product which is on the shelf. It is in line with the roadmap of managing plastic waste in Thailand to achieve sustainable plastic waste management in the Circular Economy. It is conducting business operations with regard for the environment in the format of a Sustainability Store. which is a small starting point leading to bigger changes in our world, which we are all a part of.
To invite consumers to familiarize themselves with the Refill Station, from today to August 16, 2022, at Tops Market Central Westgate, customers who spend 499 baht or more per receipt on participating Unilever products and redeem a fabric softener at the Refill Station for only 1 baht and get a free 1-liter bottle made from high-quality recycled plastic beads from SCGC (limited availability).
Chakkit added, "After the launch of the Refill Station on July 14, we find that our customers respond positively to the idea and are interested in trying the refill service for fabric softener at our Refill Station. We believe that refills will be increasingly popular as consumers today care more about the environment. From a survey in Thailand, it was found that 73% of Thai consumers are concerned about climate change, and 72% want to make a positive environmental impact in their everyday life. This shows that Thai people want to protect and restore the environment through their everyday actions, starting with themselves and those around them. Tops is ready to support the society to make a positive impact and solve plastic waste issues. We also have other projects that benefit people, communities and the environment in collaboration with our business partners to achieve sustainability together."
For more information, visit www.tops.co.th , Facebook TopsThailand, or LINE @TopsThailand.