Tops improves quality of life for farmers in Thailand sustainably through directly purchasing longan to help more than 100 families of farmers in Uttaradit and Sukhothai, helping them earn more income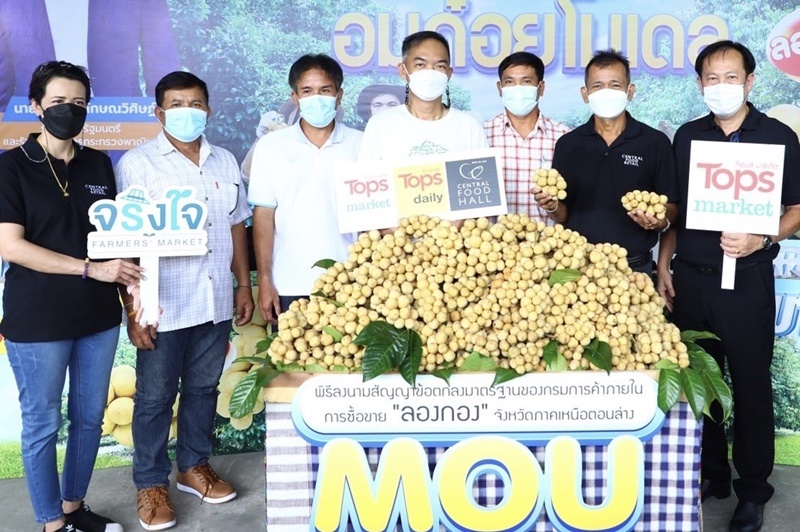 Bangkok 29 August 2022: Tops, the leading food retailer of Thailand, under Central Retail, continues to support the grassroots economy in the country in line with its 5-year strategies to improve the quality of life while also promoting sustainability for people and communities. Recently, it has sent local sourcing teams to the Lower Northern Region to visit farmers in Uttaradit and Sukhothai to offer them advice and directly purchase longan from more than 100 families of farmers. The longan will be sold at Tops and Central Food Hall, which will help the farmers earn more income, expand opportunities and channels, and improve their quality of life sustainably.
Mr.Somnuk Yoddumnern, Head of Farmers, Quality Line & Local Sourcing, Central Food Retail under Central Retail, said, "Speaking of longan, consumers usually think of longan from the South, especially tanyongmas longan which is uniquely delicious. However, this year, Southern longan is scarce and there are not enough supplies to meet the demands of consumers. Tops' and our regional local teams seek longan from other sources with great taste. We found that the Lower Northern Region, namely Uttaradit and Sukhothai, is home to some longan farmers, such as Ban Dan Na Kham Farmers' Group in Muang District of Uttaradit, which has 90 families and 300 members, and Ban Huay Tom Community Enterprise Group in Si Satchanalai district of Sukhothai province, with 29 families and 100 members. Their longan is high in quality and the taste is delicious. Most consumers may not know that longan is also grown in the North.
Helping farmers expand the market by introducing Northern longan among consumers nationwide creates more opportunities and more sales channels for the farmers. This is in line with Tops' commitment to improve the quality of life for farmers in Thailand through direct purchase so that farmers can sell their produce at reasonable prices. Through these efforts, more than 100 families of longan farmers earn more income thanks to additional channels to sell their produce. At the same time, Tops and Central Food Hall customers can enjoy quality longan from great sources."
Longan from the Lower Northern Region is grown in areas which were formerly used to grow langsat, a type of fruit that is not very popular and quite low in price. The farmers therefore used longan branches from the South to grow on existing langsat trees. Langsat is Uttaradit's iconic fruit, and the province's slogan is "Uttaradit, the City of Sweet Langsat". When attaching longan branches on langsat trees, which are members of the same family, they are able to adjust their orchards. Using technology to keep the trees in optimal conditions, supported by an ideal environment and soil, longan in Uttaradit and Sukhothai has a unique flavor, with slight tanginess, a sweet flavor, and a signature scent that is only noticed in Northern longan.
Longan from Uttaradit and Sukhothai is usually in the market in September every year, which is when longan from the South and East is already out of season. Consumers are invited to support Northern farmers by purchasing longan in September at Tops market, Tops daily, Tops Food Hall and Central Food Hall nationwide.