Tops promotes sustainability for community and environment by inviting consumers to enjoy Chaipattana Foundation's PatPat Camellia Seed Oil which is high in quality and good for health.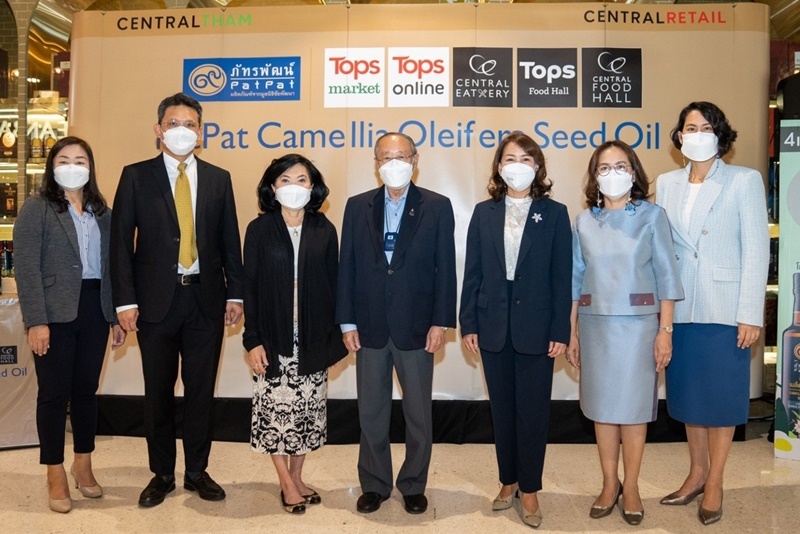 BANGKOK, 1 September 2022 - Tops, Thailand's leading food retailer under Central Retail, is ready to support the consumption of PatPat Camellia Seed Oil, known as "the olive oil of the East", by educating consumers about the health benefits and encouraging consumption. PatPat camellia seed oil is sold at a special price of 129 baht from today to October 4, 2022. At the same time, Tops is organizing CHEF'S SIGNATURES Camellia Seed Oil to introduce three new dishes cooked with camellia seed oil, prepared by expert chefs. These three dishes will be available at Central Eatery at Central Chidlom and centralwOrld. The event is honored by Dr. Sumet Tantivejkul, Secretary-General of the Chaipattana Foundation, Mrs. Supatra Chirathivat, Executive Vice President, Office of Policy Management for Corporate Relations and CSR, CENTRAL Group, Mrs. Bhakamol Rattaseri, Director and Deputy Treasurer of the Chaipattana Foundation and Management of the PatPat Brand Project, and Mrs. Panniya Binsri, Project Director of the Tea Oil Plant and Other Oil Crops Research and Development Center.
Mr. Chakkit Chatupanyachotikul, Head of Marketing, Public Relations & CSV of Central Food Retail under Central Retail, said, 'Tops' has continued our mission to offer quality products to consumers. We want Thai people to learn about the benefits of camellia seed oil, which is not widely known at the moment. It is still a niche product, so Tops is using our strength as a leading supermarket with diverse distribution platforms accessible for all consumers to promote the benefits of camellia seed oil. We want to make this healthy and high-quality product more accessible. We serve as a channel to sell camellia seed oil under the Chaipattana Foundation's PatPat brand. The foundation has been growing Camellia oleifera, an important oil-bearing plant cultivated in China for its seeds, locally in Thailand following H.R.H. Princess Maha Chakri Sirindhorn's suggestion, with an aim to make the healthy ingredient accessible for Thai people, and to generate income for farmers and encourage people to make use of the forest in a sustainable way.
To reaffirm its position as a leading food destination, in addition to selling the products at Tops, CHEF'S SIGNATURES Camellia Seed Oil event is also organized to introduce three special dishes created by Central Eatery chefs, namely Heirloom Tomato, Buffalo Mozzarella & Italian Basil, Fettuccine Alla Camellia, Tiger Prawns & Chili, and Salmon Provencal, Potatoes & Rouille. The three dishes are cooked with PatPat camellia seed oil and are available at Central Eatery at Central Chidlom and centralwOrld or via GrabFood under Central Eatery.
Camellia seed oil has many health benefits. According to the Chaipattana Foundation's Tea Oil Plant and Other Oil Crops Research and Development Center, camellia seed oil is as nutritious as olive oil. It is high in omega 9 and has many healthy fats, without trans fat. It helps the body absorb vitamin A, D, E and K more effectively. Camellia seed oil has a smoke point of up to 252℃ which is the highest among edible oils, meaning it is healthier and less carcinogenic. It is a good option for everyone, and PatPat camellia seed oil is certified with the Thai Food Good Heart logo by the Thai FDA and the Thai Heart Foundation.
Mr. Chakkit added, "As the leading food retailer in Thailand, Tops is committed to improving the quality of life and promoting sustainability for communities and the environment. We want to promote camellia seed oil among Thai consumers and educate consumers about its benefits. This will help farmers who grow camellia oleifera which produces camellia seed oil for the PatPat brand. They can have sustainable income and improve their quality of life, which is in line with Tops' commitment to driving business alongside sustainability."
Indulge in the delicious flavors of the three special dishes at Central Eatery at Central Chidlom and centralwOrld during September 1 – 14, 2022. Purchase PatPat camellia seed oil at Tops and Central Food Hall. For more details, visit www.tops.co.th, Facebook TopsThailand or LINE @TopsThailand.