Tops continues its mission of creating sustainability and aims to reduce food waste to zero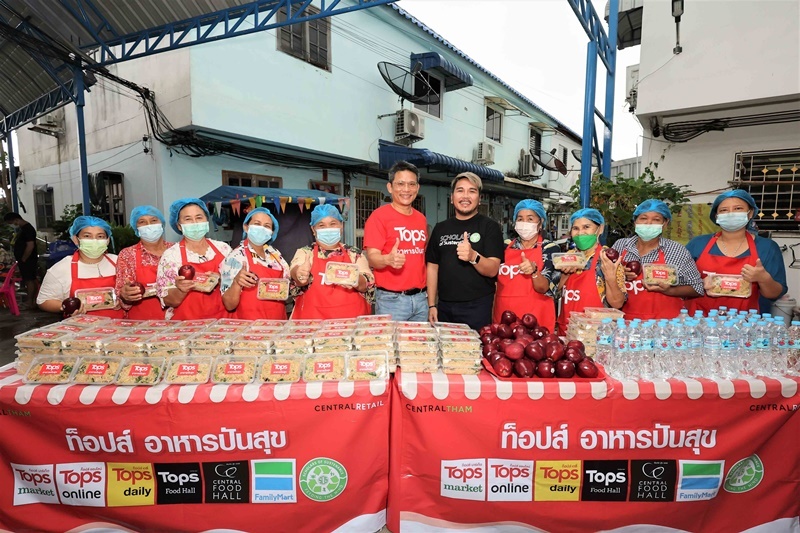 The supermarket chain collaborates with the Scholars of Sustenance Foundation to transform surplus food into nutritious meals
BANGKOK, 8 September, 2022 - Tops under Central Retail, reinforces its corporate image as Thailand's food retail leader steering business toward sustainability by moving forward with the mission of ensuring surplus food is optimally utilized. This mission will be accomplished through the 4th edition of the "Food for Good Deed" project, which will deliver quality surplus food from 129 Tops Market, Central Food Hall, and Family Mart locations, as well as the company's fresh food distribution centers, to 700 communities in need.
To enable effective distribution of surplus food, the company collaborates with the Scholars of Sustenance Foundation (SOS Thailand), which specializes as an intermediary in managing surplus food and has assisted the world in reducing the amount of CO2 generated by food waste management processes by up to 1.5 million kilograms. It has also announced its intention to become a green retail organization that promotes community, society, and the environment's sustainability. As part of this, a goal of zero food waste and surplus food from business operations has been established, with all branches encouraged to participate.
"Food is an essential component of human life and survival, and it should not be handled or disposed of carelessly. Tops, as the market leader in Thai food retail, always attaches importance to managing surplus food for the benefit of all," said Chakkit Chatupanyachotikul, Head of Marketing, Public Relations & CSV of Central Food Retail under Central Retail.
According to FAO estimates, one-third of food is thrown away as food waste, amounting to approximately 1.6 billion tons per year, while people continue to suffer from hunger and food shortages. This is a problem that interests people all over the world, and all sectors must work together to solve it. It not only eliminates hunger but also helps to reduce environmental problems caused by the accumulation of food waste, which causes spoilage and potential methane emissions, which can turn into greenhouse gases. This causes 25 times more global warming than carbon dioxide. Food waste landfills are also expensive and pollute the environment.
Chakkit also said, "Tops is committed to becoming a green retail organization with the goal of reducing food waste to zero through donations of surplus food. The 'Food for Good Deed' project has been running for the fourth consecutive year. The project's main process is the efficient and systematic management of surplus food from the source to the destination, beginning with staff training and selecting foods that are still edible, such as bakery, all types of vegetables and fruits, dairy products, ready meals, and seasonings. TOPS employees and SOS Thailand staff will inspect food quality thoroughly according to established standards before transporting it in a temperature-controlled vehicle to targeted communities. This ensures that surplus food recipients receive high-quality food."
Tops has delivered surplus food to low-income households, the underprivileged, and the elderly in various areas nationwide since the project's inception in 2019. A total of 2.5 million meals have been distributed to over 700 communities across the country. This has helped to reduce the amount of CO2 emitted by food waste by up to 1.5 million kilograms (as of July 2022). Collaboration with expert partners, such as SOS Thailand), the VV Share Foundation, and Care and Share Food for All - Association of Major Religious Superiors in Thailand, has resulted in efficient surplus food management. In addition to reducing food waste to zero, Tops is determined to encourage all its branches to participate in the program to reduce surplus food throughout the supply chain.
According to James Leyson, Managing Director of SOS Thailand, there are many people around the world who are hungry today. Meanwhile, tons of edible surplus food are discarded globally each year. The Foundation is dedicated to environmental protection through the concept of managing surplus food for maximum benefit and assisting people facing hunger all over the world. Therefore, it has collaborated with the government, private, industrial, and other sectors with similar goals, including Tops, a food business leader that supports and implements sustainable food waste solutions. From all Tops locations, surplus food in good condition and quality is sent to the Foundation to be distributed to Thai society's needy and underprivileged.
'Food For Good Deed' has generated benefits in all dimensions over the course of the project. It aids in the reduction of larger amounts of greenhouse gas emissions. Socially, it is broadening the scope of assistance to the broader community while also strengthening partnerships to achieve common goals. This effort is consistent with the United Nations Development Programme (UNDP) framework, which expects food waste reduction to be one of its Sustainable Development Goals (SDGs) by 2030.
Tops recently collaborated with SOS Thailand and the residents of Bangkok's Munkong Community 133 to organize a community kitchen called "Tops Food for All." The charity kitchen collects surplus food, such as vegetables, fruits, and meats, from its Fresh Distribution Center and prepares 2,300 sets of quality ready-to-eat meals for the disabled, vulnerable, and low-income residents of Bangkok's Munkong Community 133, Khlong Bang Bon 5 Community, and Mai Jud Tung Community Soi 51. In addition to allowing community members to enjoy high-quality food, it also enables them to save money on living expenses and participate in such a public-spirited endeavor.
"Tops is committed to helping the world reduce carbon emissions caused by food waste." We are also committed to being a food retail industry leader in promoting surplus food management as a national priority and agenda. This will allow us to provide the greatest benefits to people, communities, and the environment in accordance with the policy framework for developing shared values between business and society in order for them to grow together in a stable and sustainable manner," Chakkit concluded.
More information can be found at www.tops.co.th, TopsThailand's Facebook fan page, or the application @TopsThailand.