Central Retail selected into Dow Jones Sustainability Indices : DJSI 2022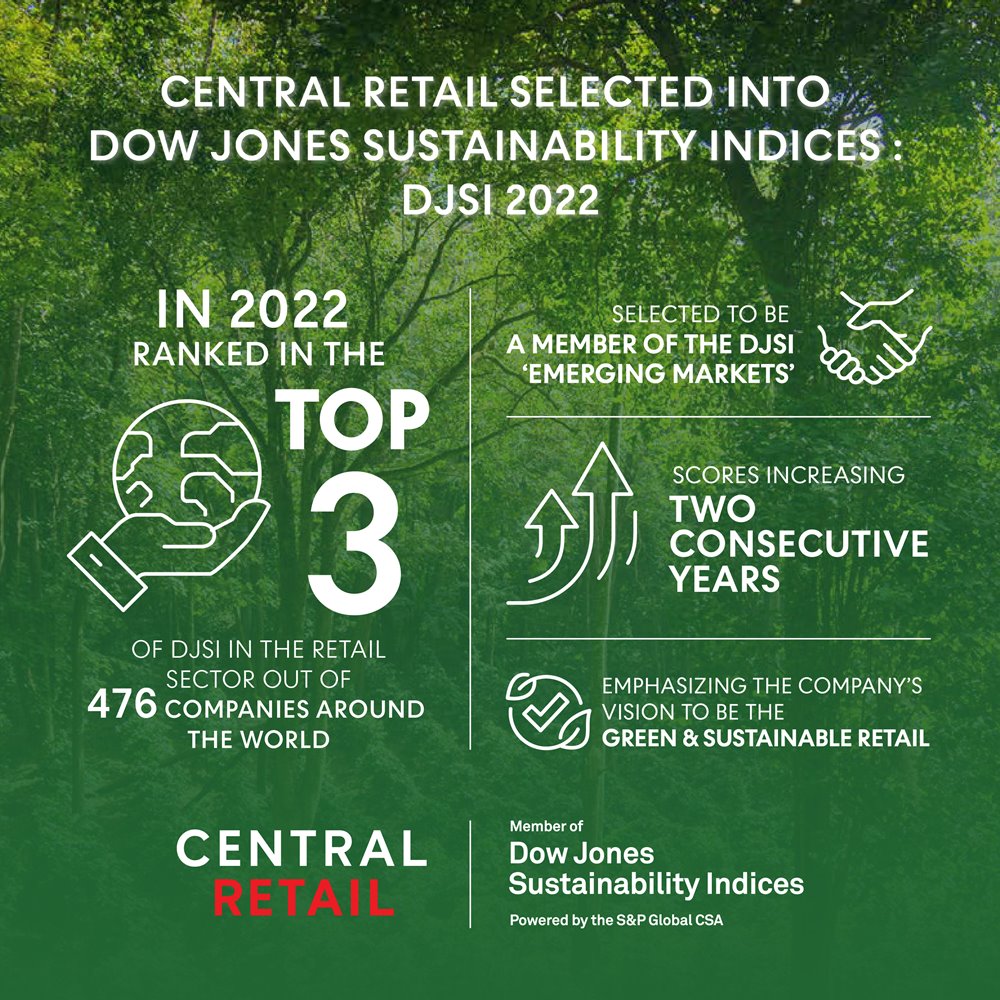 Central Retail Corporation Public Company Limited or CRC selected into Dow Jones Sustainability Indices : DJSI 2022, which reflected its sustainable CRC objective and goals by being ranked in the Top 3 of Dow Jones Sustainability Indices (DJSI) in the retail sector out of 476 participating companies around the world.
Furthermore, the company was invited by S&P Global to participate in the evaluation of the DJSI, which is a stock index of world-class companies that are accepted by all institutional investors around the world who have passed business sustainability assessment based on economic, social and environmental performance. In 2022, there were a total of 3,519 companies participating in the DJSI assessment from 61 industry groups around the world that were invited to participate in this assessment.
Central Retail has been selected as a member of the DJSI from the Emerging Markets and was invited to participate in the first DJSI assessment in 2021 with our scores increasing two consecutive years.
In the first year of participating in the assessment, the company was elected in Sustainability Yearbook Member for 2021, which has furthered the success of being on the path to become Thailand's first retail organization in the field of Green & Sustainable Retail under a balanced operation in 3 dimensions: the environment, society & good governance (ESG) and the CRC ReNEW strategy that aims for towards net-zero emissions by 2050. This can be done through cultivating corporate culture and creating a sustainable development mindset amongst employees at all levels, which can be inserted into every business process, such as the use of clean energy innovations, using environmentally friendly packaging, and implementing efficient solid waste management. In addition, creating a livable society by reducing inequality and creating equality in society is crucial, which reinforces Central Retail's commitment to conduct business in accordance with good governance principles that builds confidence with customers, partners, investors, shareholders and all stakeholders; along with delivering a livable world to the next generation.